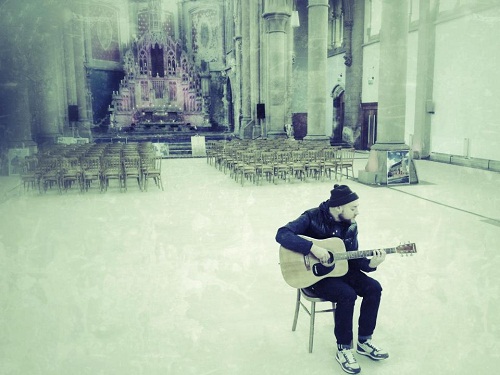 Sometimes an that EP drops through our mail box here at FFS towers turns out to be a little package of gold. Jake Mattison's aptly named Golden Friend is one such delivery – an offering of such perfect, understated quality and beauty that it's rarely been far from our stereo.
With strong echoes of early John Martyn and the playing style of Bert Jansch, Mattison shares a musical aesthetic with other newcomer and FFS favourite, Pete Roe. With such a bone fide folk sound, it's hard to believe that the Mancunian Mattison was once a boxer. It's even more surreal to learn that he was cherry-picked by Simon Cowell's company Syco to write songs for Westlife, although his songs ultimately weren't used.
Mattison's fairy tale journey from boxer and market stall holder didn't end there, and he went on to support the now-ubiquitous Emile Sande on her 2011 tour. Suitable intrigued, we collared this ephemeral new artist to find out where his inspiration comes from, and what he's got against dog shelters…
Hello, please introduce yourself and your music to the uninitiated.
My name is Jake Mattison and I'm a singer-songwriter inspired by heartbreak soul, folk and ethereal sounds.
Tell us a bit about your latest release?
The Golden Friend EP was part of a live session I recorded last summer. 'Golden Friend' is a song about running away, 'Michigan' is a song about running to find someone and 'Idle Protest' is about being trapped. The live session felt good and ended up sounding like a proper recording because of the use of real plate reverbs, and the songs were new and played with love.
What was your best ever gig?
There have been two: Supporting Emeli Sande in Glasgow and playing the 02 in Islington.
What's the worst thing about being a musician?
The heavy lifting! Apart from that – nothing. I asked to be one.
What inspires you?
Bobby Womack, Marvin Gaye, Liz Fraser, Candi Statton, my family, Lancashire hill, John Martyn, Tommy Hearns, Les Dawson, Curtis Mayfield, what could have been, what is going to be, Mavis Staples and Pink Moon.
If you won a billion pounds what would you do with it?
Apparently there are more dog rescue shelters than refuges and agencies that help women fleeing domestic violence – redressing that balance would be good. I don't mean by knocking the dog shelters down! And probably a Waste Twice down parka.
Which of your songs is your favourite and why?
Probably a song called 'Burning Wheel'. It's a song about how negative thoughts can be crippling, but you can still make what you want out of your life even with them swilling round your brain, and remembering to fight for what you want.
What are you plans for the future?
Plenty of gigging and touring for this EP and then another EP release later in the year, and an album next year. I'd like to learn to ride a horse.
Finally, we're always looking to expand our musical horizons. Do you have any recommendations of bands or artists we should be looking out for?
Bipolar Sunshine…Ruby Ann Patterson was brilliant live..and I'm loving Ghost poet at the minute.