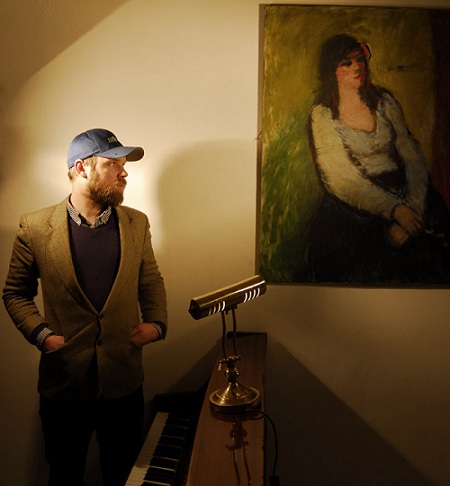 Magic Arm – AKA Marc Rigelsford – has an a distinctly lo-fi attitude to music production. After releasing his first EP, a truly bedroom affair, he ventured into the studio to record debut full-length, Make Lists, Do Something, an electro-folk fusion that revelled in the world of loop pedals and invention. With Images Rolling, Rigelsford has returned to his roots, converting the part-derelict house in which he was living into a studio, and allowing this environment to seep into the record.  Images is a warm, earthy, nostalgic album that dances a line between light and shadow, cheerfulness and melancholia. Throughout, the ghost of the house infuses each song with echoes and the sound of an old piano. We spoke to Rigelsworth to delve a little deeper into his idiosyncratic methods.
Your new album had a very interesting genesis – can you talk us through the recording process?
At the start I spent some time setting up rooms for different instruments and being more considerate regarding mic-ing techniques. I recorded a lot of room sounds in an attempt to get a sense of the space I was surrounded by. After this, there was a long period of thinking and questioning what melodies were and how to write songs until ideas started coming together. Two years later the album was finished.
Images Rolling is less electronic than Make Lists, Do Something – did recording in this way have something to do with that?
With a piano in the house I certainly felt less inclined to reach for anything electronic. Before recording I'd already made a conscious decision to go down a more acoustic route to force myself out of old habits.
Your first EP, Outdoor Games, was recorded at home too. Do you see yourself as a 'bedroom artist'?
I see myself as someone who makes music wherever is available. I'm currently recording in my bedroom, so for now, yes.
You play all the instruments yourself – why is this? Is there an element of 'control freakery' to it?
Well, with the exception of violin and trumpet. It's not control freakery, it's just the way I have always made music. The enjoyment comes from working within the narrow boundaries of your ability and how that influences what you produce.
Which is your favourite instrument?
I like the piano because it's percussive and it demands your attention.
Could you ever see yourself letting other people into the creative process?
On the album I worked with a violinist and a trumpeter and I really enjoyed how that helped shape the sound of the record. I look forward to collaborating with others on future recordings.
Are you naturally quite a solitary person?
No.
Apparently you started learning the piano by tackling Beethoven's 'Moonlight Sonata'. Most people start with 'Three Blind Mice'. Why did you set the bar so high?
I have always loved that piece of music but believed it wouldn't be possible for me to play it. I like a challenge.
Which is your favourite song on the album and what is it about?
'Warning Sign' means the most to me, sonically and lyrically. It mulls over the usual themes, disillusionment, etc…
What's next for Magic Arm?
I'm playing some festivals, including Festival No6 and Secret Garden Party, and then a tour of Europe in the autumn.