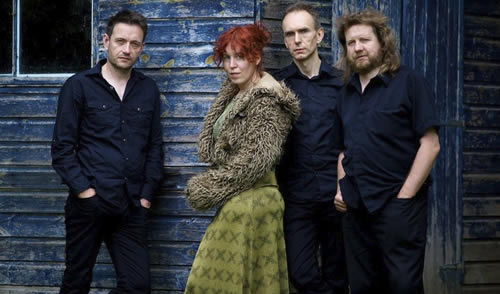 Spiro are Jane Harbour (violin, viola), Jon Hunt (acoustic guitar, cello), Jason Sparkes (accordion) and Alex Vann (mandolin). Their bewitching, unconventional brand of folk draws powerfully on a fascinating array of both contemporary and traditional influences. Mesmeric, often frenzied, Spiro's masterpieces take you to dreamlike and highly addictive highs.
We caught up with Jane and Jon shortly before a tour of the UK…
Hello – how's it going?
Jane: I had this really weird dream last night. Jason from the band was standing facing the wall, playing this really emotional cello music and telling me I had to keep listening. 
Jon: I've had a real spate of musical dreams recently, actually. It's always me watching someone perform and thinking "I wish I'd written that myself!" and then I wake up and think "Oh, I think I might have done, actually!"
Jane: And then there's what we call a 'beaner'… That's when you wake up in the night and write something down and you think "Wow this is brilliant!" and when you wake up in the morning you look at it and it's nonsense. We called it that because of a story we heard about an engineer for Aerospace who had to design a runway for the space shuttle to land on, made out of a material that could resist high temperatures. He woke up in the morning thinking he'd had a eureka moment in the night and found he'd just written 'baked beans' down on a piece of paper.
Love it! So, moving on from your more unconventional composition techniques to your musical style: You're a pretty eclectic band, with trad-folk, classical, minimalist and trance/dance music all being prominent influences… 
Jane: The folk thing has always been trancelike – AABB AABB round and round and round. It's basically early dance music. And yes, we're very influenced by modern dance music too. Rustie's Glass Swords album is my current favourite!
It sounds as if a lot of your influences originate with different members of the band rather than the band as a whole. That must present an interesting challenge.
Jane: Yes. I grew up with classical music and a bit of pop music.
Jon: I'm into a lot of different music but as whole genres go I was most moved by the punk thing really. At the moment I'm listening to a lot of Sixto Rodriguez. And one of Jason's parents was a morris dancer… 
Have you ever considered introducing vocals to your music?
Jane: This is something we've always wondered about. If we did introduce vocals we'd be using them in the same way we use instruments. What we don't want to do is have the focus of attention on the singer. 
Jon: It would never be a lead vocalist if we did introduce one.
Jane: The way our music works is that everyone is equal. It's a collective thing. The music is completely interwoven into one sound and you can't always tell who's playing which riff, because we share them out… 
Jon: An auditory illusion!
How did you all meet?
Jane: Well, Jon wasn't in the band to start with…
Jon: Yes, I'm the new boy. I've only been in the band for 19 and a half years. 
Jane: In the beginning it was the rest of us and two others – The Famous Five. We met at a session in Bristol in 1993. And then we met Jon at another session six months later. And he had a row with the bass player…
Jon: A silent row…
Jane: And the bass player quietly left…
Tell us a bit about your theatre, film and TV soundtrack work…
Jane: Yes, we've done a lot of theatre work in particular – both individually and as a band. We've worked with Theatre Alibi, and Alex works a lot with Knee High. 
Jane: Film-wise, we've never done any 'proper' films, but it's something we'd love to do. The BBC have used us a few times for TV – including on Richard and Judy! 
What are you working on at the moment?
Jane: Well we've just done a really exciting track with Adrian Utley from Portishead. We're really hoping something will happen with that. We've just done some great gigs too, including the Celtic Connections festival in Glasgow and a gig at Cecil Sharp House in London. And we've got some more gigs coming up in May.
You're brilliant – how have you not become more famous? 
Jon: We're good at the slow ascent! But at least we haven't started the descent yet!
Spiro's most recent album, Kaleidophonica, is available to buy from their website. The band will be touring across the UK next month – catch them at the following venues (more on website):
3rd May – The Royal Welsh College of Music and Drama, Cardiff
11th May – The Foundling Museum, London
18th May – The Old Fire Station, Oxford
31st December – Colston Hall, Bristol
words: Charlotte Dingle