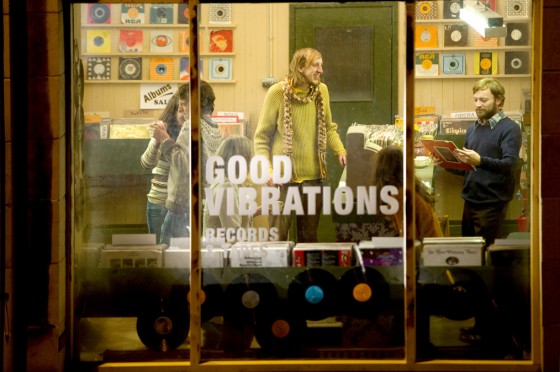 Record Store Day is a celebration of all record stores are, and all they can be. A good record store plays a huge role in the local community – and exceptional ones do even more. Last month, the film Good Vibrations was released, telling the story of how one shop made itself a sanctuary in the middle of Belfast's troubles. Here's another chance to read our interview with Anna Carr, the daughter of the shop's owner Terri Hooley.
When the Beach Boys gave us 'Good Vibrations', they painted a picture a world away from the Belfast of the 1970s, a city fighting against itself during intense sectarian violence. But the words had an added resonance for music fans in the city after Terri Hooley opened the doors of his Good Vibrations record store in 1977. A year later, he released 'Teenage Kicks' by a little known group called the Undertones, John Peel picked it up, played it twice and the rest, as they say, is rock 'n' roll history.
Now that story is to be retold as the shop's history is the subject of a new film. At the height of the Troubles, the store became a space for a flourishing alternative community and music scene as Northern Ireland was busy tearing itself apart. In the midst of the chaos which saw friends become enemies and the city go into lock-down, "Good Vibes" came under threat from all sides – including by police, paramilitaries and even Hooley's own socialist father who launched an anti-capitalist protest on its doorstep – but remained a place for Belfast's beleaguered youth to gather. But while for many Hooley has long-since secured his place in the annals of Northern Irish music, his and his shop's significance has only recently struck home for some of those closest to him.
"All my life people have told me my dad's a legend… but it's only recently I've realised the importance of the shop," said his daughter Anna. "So many people's first interaction with music was going to buy records at the shop. It was obviously a really important place to go to discover new music. It sort of became a hangout and a really vibrant place. Even though it was on Great Victoria Street, which was the most bombed road in Europe."
The shop has since has had various incarnations at different locations around the city. Hooley may be renowned for his role in music and the community, but business was never his strongest point.
Remembering the original store as a young child, Anna said it was a fascinating place "filled with smoke and full of interesting people". "The punks were lovely," she added. "They were always really nice to me."
Good Vibes continued at the heart of the Belfast music scene for decades, and when Anna herself worked there in the 1990s, it was still the place where many people bought their first records. One particular incident she remembers is when the Beastie Boys played Northern Ireland in the mid-1990s. She asked her father to take her to the concert but in the end, couldn't go as she had the flu. Later she got a call from someone who worked in the shop. The Beastie Boys had paid Good Vibes a visit, been told about Anna, and left her a get well note.
"Even whenever I worked there it was still a bit of a hub and would pull people from all over the world, who would just nip by," she said.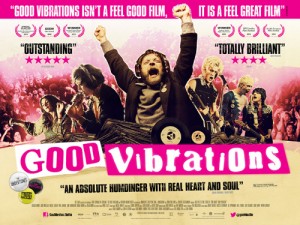 Speaking at the Glasgow Film Festival earlier this year, Hooley said his original idea in the Seventies was to put Northern Ireland "back on the music map". With the release of Good Vibrations the film, inadvertently it appears he may have done so once again. Starring Richard Dormer as Hooley with a supporting cast of Jodie Whittaker, Liam Cunningham, Adrian Dunbar and Dylan Moran, the movie has been critically very well received.
Leading film critic Mark Kermode describes it an "absolutely terrific movie" that "captures that essence of the magic of pop music". Hooley is very proud of the film himself, and has praised it for being "really very accurate".
For Anna it was "like someone opening up a photo album of my family" and she initially found it quite emotional to watch. She's seen it on the big screen four times and can finally properly enjoy it as a movie when it goes on general release on Good Friday, March 29.
She even has a cameo in the production – playing an auxiliary nurse in attendance during her own birth. Anna's mother, Ruth Carr, is a poet and the five-second scene pays homage to a piece she wrote about the woman who held her hand through childbirth. The whole thing, says Anna, has proved "quite an experience". "Considering it was made in five weeks… it's all amazing. What they do on a low budget… they've done a really good job."
Even though she wasn't expecting it to be a movie about the Troubles, it is. "The film is about the setting up of the record shop and the punk movement in Belfast – how it was one of the only things that brought both sides of the community together when the country was having a nervous breakdown."
But to anyone thinking the film may just pay homage to punk should think again. "There's a very diverse soundtrack by David Holmes that includes bit of new wave, reggae, country and Sixties pop," Anna said. "The film's for anyone who likes record shops and the whole ethos is about the revolutionary power of seven-inch single."
Good Vibrations is released on March 29th.
You can visit Terri's shop in the Haymarket Arcade, Belfast.
Words: Natalie Marchant