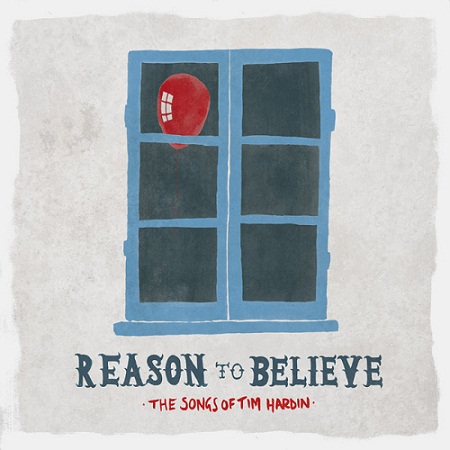 Reason To Believe is an album of songs by sixties-era folk-pop musician Tim Hardin, revived and celebrated by a host of modern-day artists including Mark Lanegan, Alela Diane and Okkervil River. We spoke to three artists featured on the album – Smoke Fairies, Hannah Peel and Diagrams – along with the man behind the collection, Full Time Hobby's Nigel Adams, at the in-store launch event at Rough Trade East.
Where did the idea to make the album come from?
Nigel, Full Time Hobby: I was always obsessed with Tim Hardin. When I first went to college I was hanging out with older students and I was like a kid in a candy shop digging into people's record collections. I heard Tim Hardin 1 and Tim Hardin 2 (Tim's first two albums, from the mid-sixties) and got absolutely obsessed. They are so beautiful and so maudlin as well. Being an 18 yr old student it hits you. There's records in your life that come and go but they have always been there for me. I may not have listened to them for a couple of years but always went back to them. To ask people to record songs and to celebrate him was a real treat. It's a celebration of his music, getting people together that we like and having fun. It's playing to the mixtape fanatic in me.
How did you pick the artists for the album?
Nigel: It was people that primarily I like and whom I thought would bring something new to the songs as well, but do it in a sympathetic way, not veering so far off the course so that there is a thread to the album. It was people who I hoped would bring interesting interpretations.
Smoke Fairies perform 'If I Were A Carpenter', possibly the late songwriter's most recognised and covered song. We spoke to the girls about how they brought their own influences to the song.
How did you make the song your own?
Katherine: The song is an interesting mix of someone sounding quite possessive and also vulnerable. They want this person to be theirs forever but what's this based on? Is it because I am what I am, or if I was someone different, would you still love me? It's quite poignant. It was interesting doing it with a female voice and twisting it.
Jessica: It's all about 'would you have my babies?' – we couldn't really sing that. We'd have had to sing it from the male voice if we'd kept it as it was, so we took out a lot of the lyrics.
Katherine: There's stuff like 'would you still be following behind me?' and from a modern day perspective it's hard to find your place in it. We tried to take it from a different angle, focusing on the darkness of the vulnerability of it.
Tim Hardin's songs are often known before his name, as in the case of Diagrams' Sam Genders, formerly of Tunng. He told us about how the project opened him up to Hardin's work.
Did you know Tim Hardin before you were approached to be on the album?
Sam: I have to be honest, I didn't know much of Tim Hardin's stuff. I loved the song 'If I Were a Carpenter'. As a kid it was a song I loved but I didn't know who it was by. For me, it's exciting to get involved with a Full Time Hobby project and to get introduced to someone who I'd not properly discovered. It's a really great album so it's nice to be a part of it.
Hannah Peel – who appears on the album both solo and as part of three-piece The Magnetic North – was similarly familiar with the songs but not the person.
Did being involved in making the album change this?
Hannah: Yes, and I wrote a blog on it about his records and the way he was, the way he lived as a musician. He was a junkie, and still made amazing music and still managed to fumble through even though he was full of despair, and longing and a complete loss. It's interesting, the music that's come out of that. I wonder on reflection what his life would have been like if he'd not been like that. Would he have unleashed that level or would he have been a kind of Johnny Cash?
Tell us about the song you picked to record.
Hannah: I said actually I'd like to do a 'Rebox', which is when I take covers and remake them on the music box. They said yes, there's 'Lenny's Tune' left, and that was the one I wanted to do because that's the one Nico covered and that was the version I'd heard – I'd not heard the original before.
If you could have their songs reinvented by any other acts, who would it be?
Hannah Peel: Scott Walker, Kate Bush and Joni Mitchell. If they covered me I think I'd die happy.
Katherine: I would want someone to turn one of our songs on its head and do it completely differently. I heard an interview with Gary Numan saying that he liked listening to our record in his car, and I thought 'wouldn't that be brilliant?' It would be sort of hilarious if Gary Numan covered a song of ours.
Sam: Animal Collective would be great, Lal Waterson if she was alive, I'm a huge Jackson Brown fan, new FTH act Seams I love, and actually Smoke Fairies! I hadn't heard them before tonight and they are amazing.
If the performances at the launch event are anything to go by, Reasons To Believe serves as a delightful introduction to Tim Hardin's compositions. The songs are thoughtfully arranged and lovingly compiled, ready for discovery by a new generation.
Nigel: I had some contact from Tim Hardin's wife – she got in touch out of the blue and she said she'd heard it was happening, and just the idea that contemporary people were bringing his music back up, she was really pleased with that, which was nice to hear. There's going to be a book and a film coming out, so perhaps this is just the start of the reappraisal of Tim Hardin. It's such an amazing thing to be able to turn someone on to new music. To know they don't know something, but how much you love it and they're about to hear it – it's like giving someone a gift.
Reasons To Believe is out now on Full Time Hobby records.
words: Zoe Konez
'Hannah Peel' photo credit : aintnocure.wordpress.com