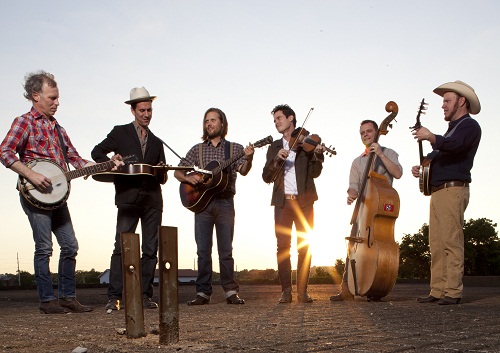 Old Crow Medicine Show play good ol', rootin' tootin' American and blue grass and can name fans as illustrious as Marcus Mumford, Norah Jones and Gillian Welch. In fact, they supported our own Mumford and Sons back in 2011 on the Railroad Revival Tour which saw them riding a vintage train from California to New Orleans. With their fourth studio album, Carry Me Back, released in summer of last year and recorded at legendary Nashville Sound Emporium Studios, we took the opportunity to grab banjo player, guitarist and vocalist Critter Fuqua for a few words during the band's current UK tour….
How are you enjoying tour?
I'm loving being on tour. After my time away from the band, and the year everyone took off, I really feel a new sense of rejuvenation for myself and the other members of the band. Things like waking up in New Orleans in the rain and seeing a train on a trestle, red beans and rice…Great perks from a job that takes you around the world.
Are you excited to play the UK?
I'm really looking forward to playing the UK. Last time I was there with the band was in 2007. While I was in college, I went in the summer of 2011 and spent some time in County Kent, studying the origins of the English language. England, Ireland, Scotland, and Wales have always held a special place in my heart, and I'm excited about playing for the people.
How did you first start making music?
I first knew I wanted to play music in 1987 when I was in 5th grade. I heard Guns N' Roses' Appetite For Destruction and was completely hooked. They had the look, the riffs, the lyrics your parents didn't want you to hear. I remember when my fifth grade English teacher took all my Metal Edge magazines away from me because I was reading them in class. I had to walk to the front of the class and give them to her. It was humiliating, but I knew I was on a different path than the rest of my classmates.
Tell us about your relationship with your instruments and what they mean to you?
I suppose the closest relationship I have with an instrument would be with my 1948 Gibson RB-100 banjo. It's been run over by various vehicles twice, and put back together. It's my banjo, with the sound I love and the feel I love.
Tell us your favourite track from the album and why?
My favourite cut on the new album is the song Carry Me Back. Ketch wrote it, and I love to play it live. It speaks to our Virginia roots, and the struggle of young men in the Shenandoah Valley during the American Civil War. The delusion that the war was a thing of glory for those boys was quickly shattered, and the ugly reality was soon apparent. I often think of those soldiers and what they went through.
Words: Felix Bear Lane and Theresa Heath
Catch OCMS on the following dates:
Vicar Street
Dublin, Ireland
Mandela Hall
Belfast, Northern Ireland
Barrowland Ballroom
Glasgow, Scotland
HMV Ritz
Manchester, England
Shepherds Bush Empire
London, England