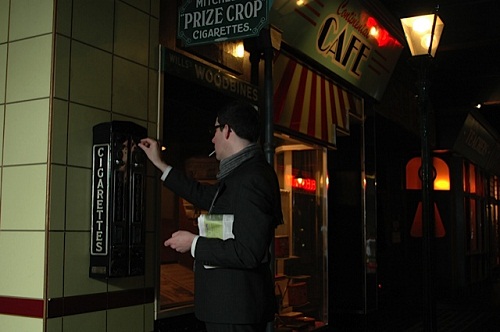 Stevie Jackson has had an illustrious career. Not content with an enormously successful 16 years with genre-defining band Belle and Sebastian, he's played with the Bill Wells Trio, The Store Keys and regularly lends his guitar skills to iconic Scottish band, The Vaselines. In his words, it's been 'an interesting adventure'. Now, this indie-legend has put out a solo album, the cheekily-named (I Can't Get No) Stevie Jackson to favourable reviews. Released last May, it's lyrical hopscotch rooted in a plethora of 60's influences, from the simple punk chords of 'Try Me' to the country rock of 'Richie Now'. Elsewhere there's a suggestion of Neil Young and Elton John, and even a dash of 70's soul and funk, as on 'Just, Just, So To The Point'. We were not a little star-struck when Jackson made some time to talk to FFS about some of the highlights from a remarkable musical journey…
Can you tell us a bit about your solo album? 
12 pop songs each with a different story or theme. The Dreamlike State, Movie Directors, Urban Housing Disasters and relationships through technology are examples of some of these themes.
You've had a very long and successful career. Can you pick out any highlights?
Belle and Sebastian playing at the Hollywood Bowl with the LA Philharmonic summer of 2006. Sold out show and it went fantastically well, highlight of my entire life probably.
How about your favourite song?
I like 'Seymour Stein' – the record sounds amazing even if the pitching is a little suspect here and there. A song about your perception shifting when you actually attain what you dream of – such a cliché but it's true, it's never what you think it is. All people need is love and I'm no different and if love is achieved then life really starts to get complicated and gets harder too, funnily enough. Still, as Sinatra said "If you find love, hang on to each caress." 'Seymour Stein' is a good song, as good now as it was then, it stands up.
What's been the best thing about being a musician for all these years?
It's always been an advantage in life. So much fun to be had, on hilltops, beaches, friendships, open doors, parties, good times, clubs, bars, street corners. I'd recommend it to anyone.
What inspires you? 
Enthusiasm, smiling faces, good intentions, flirtation, philosophical questions, film noir, Bergman, Rumi, anyone with something interesting to say and who is pure of heart.
Musicians – even successful ones – aren't usually billionaires, so we like to ask what they would do if they won a billion pounds…
Give it away as quickly as possible. It can't be good for your health having all that money. I don't need much, I get to do what I want anyway.
What are you plans for the future?
Get married, have kids, make more records, go away somewhere for the summer which is a kind of a Scandinavian idea, never seem to get it together.

Finally, we're always looking to expand our musical horizons. Do you have any recommendations of bands or artists we should be looking out for? 
I saw a great band called Teen Canteen who are from Edinburgh I think. I'm not sure they have any records but they will and I'll be there.
words: Felix Bear Lane