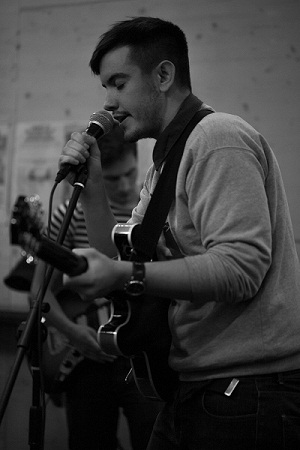 There are gorgeous vocals, melodies and shoe-gazing aplenty to be found in 'The Light', the new single from Oxford indie-folk band, Toliesel. Having fallen in love with the mournful yet not miserable guitar riff on this beautiful slice of melancholia, we caught up with lead singer, Jack Olchawski to get the low-down.
Hello, please introduce yourself and your music to the uninitiated.
Hello there! We are Toliesel, an Americana-influenced indie pop band hailing from Oxford. Our music is a happy middle ground between the direct songs of Death Cab For Cutie and Band Of Horses, and the more sonically outlandish, such as Deerhunter.
Tell us a bit about your latest release?
We have just released our first single, 'The Light', as a free download. It also comes with a remix from multi-instrumentalist and good friend, Message To Bears. We like to think it's pretty bittersweet, with the kind of melody you can sing along to.
What was your best ever gig?
Our best gig so far has to be this year's Truck Festival, without a doubt. We shared a stage with Lucy Rose and Frightened Rabbit, and tons more people than we expected came to check us out, so that's been a definite highlight.
What's the worst thing about being a musician?
Telling your chums that you won't be able to attend their wonderful gathering, because you're due to play to an indifferent audience in some arse-end of a town. We're trying to be a little more focused in our gigs these days, to prevent that sort of thing!
What inspires you?
Perfect songwriting. As a group we love ambitious music, and are eager to explore different sounds and voices, but it is definitely great songwriting that inspires us, whether it's in the lyrics, or the arrangements of a track.
If you won a billion pounds what would you do with it?
Give about half to charity (honestly), then go and treat friends and loved ones to surprise trips away. The rest would be spent on me headed to the moon, or at least space. And it would probably be wise get to the point where I actually own the instruments I play on stage – that might please my band mates.
Which of your songs is your favourite and why?
Probably our newest one, 'Whispered Half Asleep'. I love the sentiment and am really proud of the lyrics. It's basically about taking a step back and gauging what's really important, and putting things into perspective. We also have a track called 'Bones' that is a bit of a band favourite, it's about a friend of mine, and singing it always makes me feel good.
What are you plans for the future?
Our plans are to enjoy ourselves as much as possible, keep making cool country rock songs and gig as much as possible. There's hope of a 7 inch somewhere down the line, but for now, we just want our live set to be as good as it can be.
Finally, we're always looking to expand our musical horizons. Do you have any recommendations of bands or artists we should be looking out for?
I'd probably have to give this shout to fellow Oxford band, The Grinding Young. They are yet to record their best material, but they're essentially an awesome mix of Grandaddy, Radiohead and Dinosaur Jr. Go and check them out, readers of FFS!