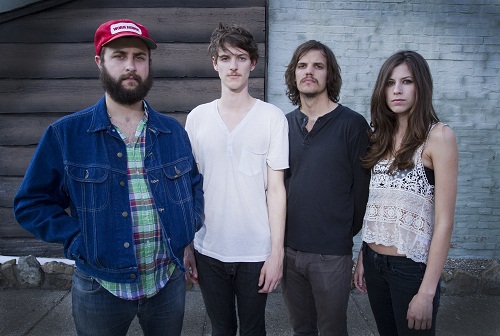 We recently featured an exclusive stream of the debut EP from Kentucky's newest export, Houndmouth – and what a blinder it was. Here, we get the lowdown from Katie Toupin, Matt Myers, Shane Cody and Zak Appleby on the new release, their inspirations, and their very modest ambitions where huge fortunes are concerned…
Hello, please tell us a bit about your latest release.
Zak: Our 4-song EP came out on Rough Trade Records in stores August 21st and digitally August 27th.
Shane: We actually recorded the EP ourselves at an old home we call 'The Green House' where we practice. I set up all my recording gear from when I was working as a sound engineer and we all really liked how comfortable we felt there. And I think that really comes across well in the songs.
Matt: When we started the band back near the end 2011, we knew we wanted to record some stuff. 'The Green House' turned out so great that once a lot of people picked up on what we were doing, we knew we had to pay tribute to our practice space — so we used portraits of Shane's great-great grandparents hanging in 'The Green House' as the album artwork.
What was your best ever gig?
Shane: Selling out Zanzabar on July 12th, the night before Forecastle, as our first headlining show.
Matt: We haven't had a ton but I'd definitely say our show at Zanzabar. It was very loud, very fun.
Zak: Zanzabar. Smaller venue and it was packed.
What's the worst thing about being a musician?
Matt: Not having any money and spending a lot of time waiting.
Katie: Waiting to play the day of the show. Then waiting for the next show. Lots of waiting. And then it's over too fast.
What inspires you?
Shane: Practicing. The drive to make music we love and be the best we can be.
Katie:  New music that really hits home. I can listen to one album for a month or more if it's really great. Dawes is a great example. I was also huge into Gillian Welch and when David Rawlings put out an album out, that was it! I was stuck. But it was a good stuck. It was new to me and I just wanted stay there for as long as I could.
Traveling also always sparks creativity. When I'm out of the comfort of familiar surroundings, a fresh new perspective opens up and allows my brain to go where it otherwise wouldn't. Things emerge that the walls of my apartment wouldn't allow.
Matt: It's also inspiring going back and listening to Exile on Main Street, or watch old videos of Bob Dylan, Janis Joplin, Joe Cocker, or whoever.
If you won a billion pounds what would you do with it?
Zak: Probably go buy a shirt. And maybe a pair of Levi's.
Shane: Build an amazing studio.
Matt: Convert it to American money (laughs).
Which of your songs is your favourite and why?
Matt: 'Houston Train' – it was just one of those songs that came together. We didn't have to think about it. It naturally builds and climaxes.
Shane: 'Jasper.' [not on EP]  I love hitting the very first note.
Zak: I would say 'On The Road.' [not on EP]  It's pretty catchy and gets people bobbing along with the music almost instantly.
Katie: Whatever song is the newest to our set. (laughs) I get bored easily.
What are you plans for the future?
Zak: We are going on the road with London band Dry The River here in the States for about a month, starting in mid-September. Really excited for that.
Matt: We've started writing for the second album. I know the first one doesn't have a release date but we are all eager to play new stuff.
Shane: Record everything.
Katie: We are almost done planning a small tour of Europe soon, too.
Finally, we're always looking to expand our musical horizons. Do you have any recommendations of bands or artists we should be looking out for?
Katie: We are big fans of our friend in Nashville, Andrew Combs. It's a classic country sound. He is a great songwriter and plays with a pedal steel player, Spencer Cullum Jr, who is from England. Fantastic!
Matt: I also like a band from Bloomington, IN, called The Broderick. Nice lyrics and a little different style than I am used to, but very good.
Shane: Look out for Louisville, KY, to be a new destination for recording.  Kevin Ratterman's new studio (La La Land) will have the best sounds on tape in the Midwest.