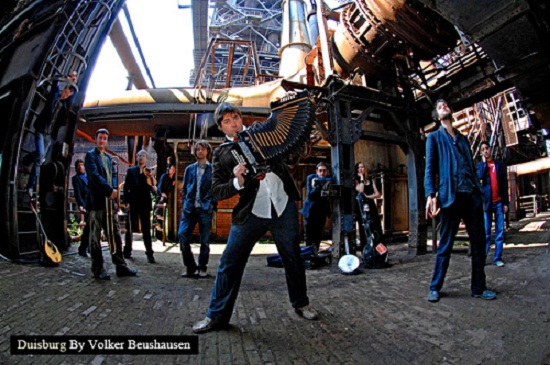 Bellowhead are one of those bands you can't help but instantly fall in love with. With their traditional folk music and exceptional musicianship they've become a treasure to many folk fans. About to set off on tour with other folk artists on a tribute to the late Sandy Denny, FFS managed to catch drummer Pete Flood to talk about Denny, summer plans and Jessie J fans…
Firstly, for the benefit of those who haven't enjoyed the Bellowhead experience, could you describe what your band is all about?
We are all about playing live and what we usually do is take traditional folk songs and try and find something new and update them. We always look for ways to make them more catchy and to have as much fun with them as possible.
You're about to embark on a tour with other folk artists to celebrate the talent that is the late, great Sandy Denny. How did you come to be a part of this?
Well, we did the original tribute show back in 2008 in London and that came about from us being asked to be the house band with other artists like Jim Moray, Johnny Flynn and PP Arnold. This tour is going to be a very similar show with a new roster of artists. It should be really good, I've been getting really excited about it. I've spent the last few days looking over recordings from the show 3 years ago, because as M.D. one of the things you rely on is something magical happening and as time goes on and the show gets nearer, you get more nervous about that magical outcome occurring. But based on the last show, I'm feeling very upbeat about it.
Clearly, Sandy Denny was a massive inspiration to all who love and play folk music. On a personal level, how much of an influence was she to you as an artist?
That's a funny one actually because when we did the original show back in 2008, she wasn't a massive influence. I was aware of her work from way back when I was in one of my first bands. I used to be in a folk-punk band and we used to support bands like the Levellers and one day the guitarist, who worked in a local Our Price brought in a load of Sandy records and played them. And I guess because her music was always quite slow and because I was more into the frenetic stuff, being a drummer, it didn't really grab me at first. But then when we did the show in 2008 I was sent this massive heap of her music and it started to get under my skin. One of the first things that got me was the imagery in her lyrics, it's astonishing.  And when you go deeper, you see that the way she crafts a song is extraordinary; the chords she chooses, for example are like nothing else. So I can now say I am a fully fledged member of the Sandy Denny fan club!
The tour is basically a 'Who's Who' of folk music with the likes of Joan as Policewoman, PP Arnold and Thea Gilmour to name but 3! Is there anyone else the band would like to work with in?
Well it would be lovely to get someone like Elvis Costello involved with this project. I bet he could do an incredible version of a Sandy Denny work. And we were just at a Radio 2 gig that Tom Jones was singing at and we were all trying to psyche ourselves up to go and ask him if he'd get involved. But I suppose I'm talking about figures way beyond our pulling power at the moment, but you never know!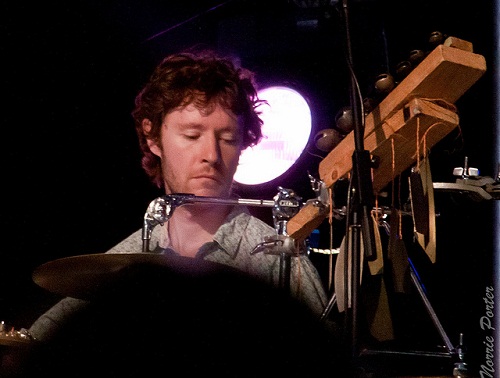 And how was the Radio 2 Day concert the other night?
It was good actually! It felt like a strange return to something that we'd lost, maybe. Because we hadn't played together for a while we were all really worried about it, and when we got onstage we kind of tumbled in together on the first number and it just worked.  I started to hear the punkiness of our first gigs and thought to myself "Oh god, we've got a bit polished over the years", and I think that punkiness was a good thing. So in that respect it was really good. There was a lot of waiting around though and having to make our way through the mass horde of Jessie J fans who were completely uninterested in us was funny. It was like a massive tumbleweed rolling past them in the desert with no one saying a word.
Well it's their loss!
Ha! Yeah I'd like to think so! But Jessie J is alright…
Now the festival season is soon upon us and you're appearing at quite a lot! Are there any in particular you're excited about?
I've been really excited about Hopfarm and both Camp Bestival and Bestival; it's been really nice to be invited to both. And the Eden Sessions is going to be great; I've always wanted to play at the Eden Project. We're playing there with Frank Turner and we met him at Cambridge last year and he seems like a lovely guy so it should be good. And of course all the European festivals are always great because travelling over to Europe with an 11-piece band is kind of like a big, strange holiday and it's always a bit messy!
And finally, would you care to recommend any artists that FFS should be keeping an eye out for in the future?
I really like Gerry Diver's stuff. He's just released an album called Speech Project and it's really nice. He's a massive Steve Reich fan but he's also really into the traditional Irish stuff so his album is like a fusion of the two. Although I don't want to use the word "fusion" because that makes it sound like he's sat down and thought it up but on the contrary, it sounds completely natural and it's lovely.
Another artist is Spiro who have just released a new album. They're a four piece and they do incredible things. They're extremely folky and instrumental and beyond that, it's impossible to describe, other than that it is absolutely wonderful stuff.
words: Carly Goodman
Catch Bellowhead live on the Sandy Denny tribute tour:
The Lady: A Homage to Sandy Denny Tour Dates:
May 19th: Liverpool Philharmonic
May 20th: Nottingham Royal Centre
May 21st: Brighton Festival
May 22nd: Coventry Warwick Arts Centre
May 23rd: London Barbican Centre
May 24th: Basingstoke The Anvil
May 27th: Gateshead The Sage
May 28th: Manchester Bridgewater Hall