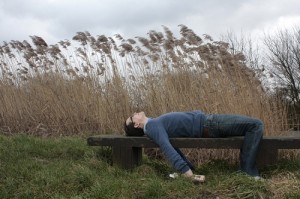 Rough Fields is the musical project of James Birchall who makes, in his words, 'sort of folk' music. We say it's sort of beautiful. Here's an introduction.
Hello, please introduce yourself and your music to the uninitiated.
Hello. My name is James, I make sort of folk, sort of electronic, sort of experimental music out of found sounds, rescued instruments and environmental recordings.
Tell us a bit about your latest release.
Well, the most recent thing out there is my debut album "Edge of the Firelight", which is up on pre-order now (it's coming out at the end of the month). It's taken a year to get the material together. I'm really pleased with how it's turned out.
What was your best ever gig?
Our first gig is at Brixton Windmill on the 5th April. So I guess that'll be our best ever gig. I've been rehearsing with a band for several months – it's tricky to get the sound together in a live situation because of all the looping and layering in there. We've pretty much nailed it, though, and we have gigs starting to line up over the spring.
What's the worst thing about being a musician?
I have yet to find out. Maybe the compulsory moustache? It's really itchy.
What inspires you?
Mostly the environment – rural, urban, coastal, mountains, whatever. Places, memories, scientific concepts, old stories, TV programs about lost tribes. Oh, and beer. Mustn't forget beer.
If you won a billion pounds what would you do with it?
The only thing I could do with a clean conscience – spend it all on destroying capitalism.

Which of your songs is your favourite and why?
Wow, that's a bit like choosing favourites between your kids. I can't do it. Maybe "Edge of the Firelight" from the last EP?
What are you plans for the future?
Got some nice gigs planned for April to June, been doing some remixing, got some festival bookings, thinking about getting a dog/pig.
Finally, we're always looking to expand our musical horizons. Do you have any recommendations of bands or artists we should be looking out for?
Anything on the Bomb Shop label (Fierce County, Ambrosia(@), Pairs), Hong Kong in the 60s, Sohrab, the new Part Time Heroes album, Grouper, Spectrum Spools label, Chris Watson's field recordings especially El Tren Fantasma, God Bows To Math.
photo credit: Sarah Faraday
words: Theresa Heath
video