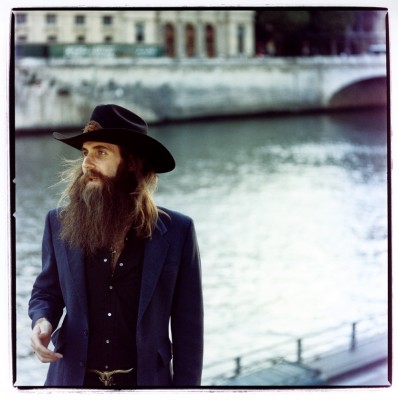 Last of the Country Gentlemen, as a statement about Josh T. Pearson, only tells half the story. This year's masterpiece of gutwrenchingly personal country-folk is expertly recounted, masterfully played and needfully drawn-out. But in talking to the man or seeing him play live it quickly becomes apparent that the individual whose soul seems to ache so terribly on record is not a full account. Spending almost as long telling, by his own admission, 'terrible dad-jokes' onstage as playing his music, Pearson seems as though his troubles contribute to his upbeat and eminently likeable persona as much as his persona must, if we are to believe the stories he tells, contribute to his troubles. In our interview, he begins by making a joke about English weather before quickly moving on to describe the initial playing of his newest songs as 'therapy', and it's this dualism, and a willingness to accept and present it that makes this artist quite so fascinating.
A short back story. Pearson has played guitar since he was twelve, but first rose to prominence in 2000, where, at SXSW, his band Lift to Experience so impressed Robin Guthrie and Simon Raymonde that they signed the band to their label, Bella Union on the same day. Shortly after the release of their debut album, 2001's highly-acclaimed The Texas-Jerusalem Crossroads, the band split up, Pearson picked up his old acoustic guitar and spent much of last ten years simply playing new songs to audiences all over the world. 'I'm a worker. For four or five years I just lived off of playing shows, y'know fifty bucks here, fifty bucks there. I just treated it as performance art and didn't put out any records. Playing places like Hull. You know Hull? I played there six times.'
So why, for a man so contented with living the travelling life, would he want to commit to another concrete, irreversible depiction of his work ten years after the last? An epiphany? A grand realisation that his art could not be contained to simply those who chose to see him and must be thrust on everyone? No. Something slightly more prosaic. 'Two boys in Ireland.' This is typical of Pearson – for every statement about heartbreak or loss, there is another that recognises the sheer ordinariness of human life, and it's this ability to balance the lofty with the loft-conversion that most explains Pearson's duality. Back to that decision: 'a couple of individuals had some kind words to say, and that made me reconsider my worldview as far as putting them out.' It seems that in realising that songs this personal paradoxically become universal, Pearson realised that he could not only help combat his own demons, but help others to alongside him.
However, the process was not as simple as all that. Last of the Country Gentlemen was recorded in two days, but was not quite as straightforward an exercise as that sounds. 'It was like making a documentary of your break-up – it was all true and honest… When we recorded it, I went in there and did a day and then recovered for ten days. I just lay down and didn't get up for a week and half there, then went back in and did the other day. 'Cause the mental state – I mean, the guitar work I can do quick, y'know it's just guitar work. But doing it live with vocals, if the song's that long, well after two or three takes, which is all we'd do, it was a bit too much.'
It's precisely this difficulty, this terrible, personal connection to what Pearson lays bare that has led him to present his other side to audiences across the world. 'I tell terrible jokes in between, just to get some relief in my own head, otherwise it's a little too heavy. I think other people can take it, but just for my own self… From trial and error if I keep that headspace for too long it's gonna kill me. So I tell terrible jokes.' But despite the disparity of these two approaches, Pearson reconciles them with a constant focus on himself, not in solipsistic fashion, but rather a characteristic need to reveal his true personality in every situation. In talking about the process of creating these songs, Pearson is insistent on declaring one aspect of his writing style: 'After 25 years of playing, I feel like I've rounded a corner with lyrics, with my own particular phrasing… I found that unique voice that I was after… They were written in first person, instead of third person.' It's this first-person voice, the innate connection of singer to song and the knowledge that the audience perceive him as both narrator and subject that seems to matter most to him: 'The songs that hit you the most are always the ones in first person… Nietzsche said, "They muddy the water, to make it seem deep." There's mystery there, and those sorts of images can be great too but I'm just trying to stay as specific as I can… You stand to risk so much more by putting yourself out there, but I would rather risk it and fail… I mean writing in first person, just by its very nature, you're going up there with nothing to hide behind. But it's those songs that are the most profound or affect us the most. I'd rather attempt it in first person and not get there.'
In fact, it's that very first-person approach that "gets him there" and far beyond besides. Country Gentlemen, whilst not a concept album, tells a definite story and, in doing so appears particularly novelistic, an idea Pearson agrees with: 'It was definitely written that way. I'd written the songs and tweaked what I needed to, taken away what I needed to so that it wouldn't be one particular piece. The songs sit on their own but there's one theme… They're sort of little journals that make up one piece that you need to listen to from beginning to end but hopefully stand on their own too.' In fact, Pearson often compares his work to artforms not usually associated with a seemingly simple folk album. The length of most of the tracks (four of the seven are over ten minutes long) takes this strictly out of the realm of traditional songwriting, and it seems other areas of culture have informed this approach: 'You look at classical music – they had pretty long songs…  The nature of that stuff affects you the most. I mean you read a long book or watch a long film, those things have always affected me most profoundly. I guess the depths and breadths that take a little while for the listener mean you can get to a deeper spot by and large.'
But, just as we can (and should) celebrate this approach and the benefits it reaps, the costs are just as evident. Quite apart from Pearson's own struggle to bring the album to the public, when something's quite so good we can selfishly demand more. Pearson seems wary about committing to any more work anytime soon: 'I'm not gonna be pretty about it, I don't know. I've got to think about the value of it. I've got tons of songs [but] I wouldn't want to be infringed upon by putting out records. I mean you put out records and certain things are required of you; touring, interviews. It takes away a certain perspective of a normal experience of life – I don't wanna be an asshole. People who do all that have to take preventative measures, they build up walls, y'know? Become a dick. I've never really met a hero of mine that wasn't. That's just the nature of the game. So I've really gotta think about it and see what to do.'
That said, he does admit to having recorded 'Neil Young cover versions' of his own tracks with a full band, but seems unsure as to what to do with them. 'I've got so many unfinished ideas to pull from, I've been collecting them as scraps and putting them in categories. I've just gotta try to work on the songcraft side of it… Once you put something out you can never take it back. You don't want to take away from what good has transpired. What little good's come from it, you don't wanna go fucking it up.' Who knows what we can expect of Josh T. Pearson next, or whether we can expect anything at all. The sheer duality of the man makes him impossible to read and yet so much more readable when he presents his work. Then again, we might already have an answer: 'I could go home and record pop versions. I've travelled a lot, I don't need to see anymore. I say go pop. Fuck this art shit.'
Josh T. Pearson is currently touring and you can go and see his incredible live show in the following places and on the following dates: