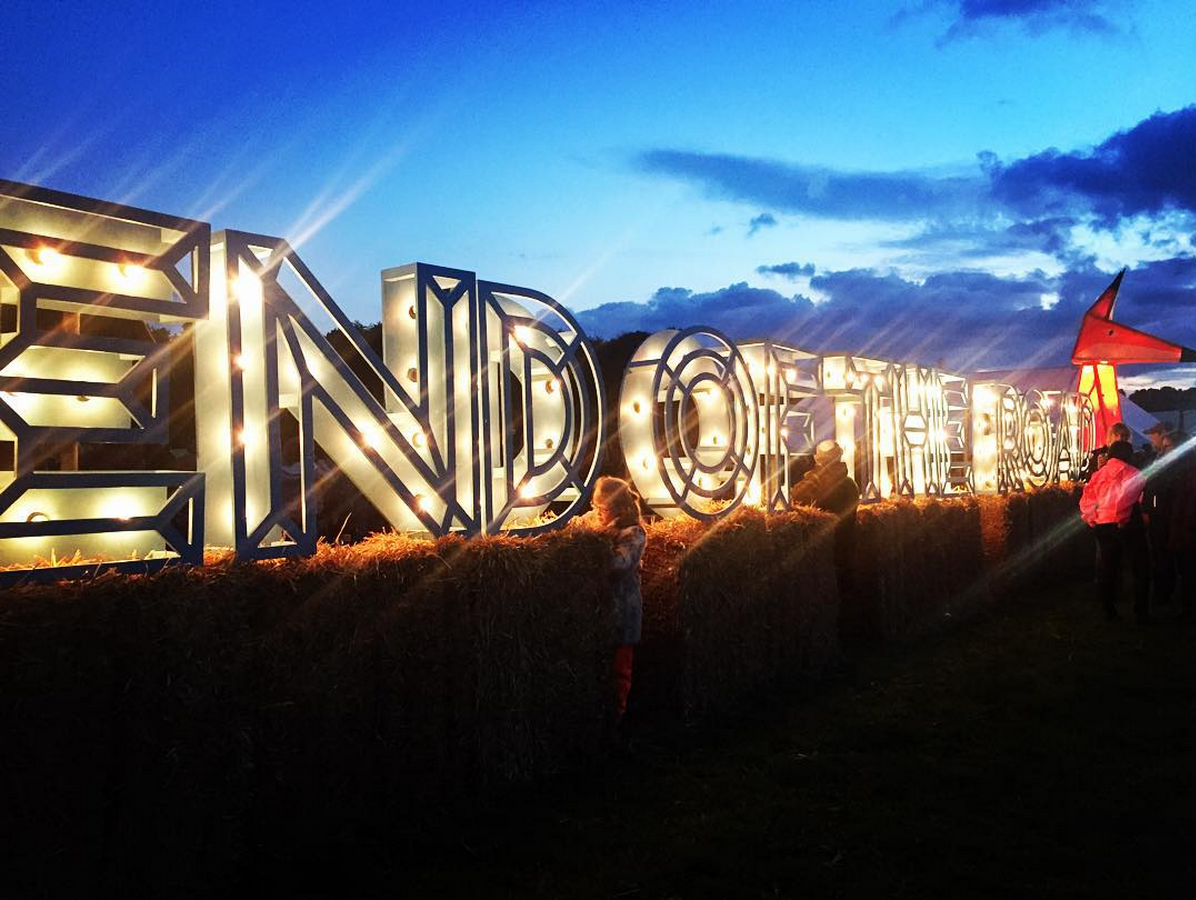 It's 3pm, a couple of days after the glorious End Of The Road Festival 2015 and I'm online buying early bird tickets for EOTR 2016. I'm diligently clicking and refreshing waiting for the link to explode into life so I can hurriedly tap in my girlfriend's credit card details and bag some discounted tickets for next years' event. (She's very generous that one. I'll surprise her with them later). That my first adjective about EOTR is the word 'glorious' should comfortably outline exactly where this review is headed. Suffice to say, buying tickets for a festival I've just returned from is a clear indicator of its impact.
Personally, there are no two ways about it: End Of The Road is the most spellbinding music festival I've ever been a part of; a unique wee village that for three marvellous days became home to the extraordinary and the enchanting; the magical and the mysterious; the creative and the colourful. The site itself is immaculately well presented and adorned in fairy lights and fantastical artwork; families of peacocks stroll languidly around the grounds; parrots fly overhead as you wander from stage to stage; pop-up food shacks, medieval-looking tent bars and ad-hoc performance stages help cultivate a uniquely rural sub-culture of gastronomy and the arts. It's a stunning little world to get lost in, and I, along with 11,000 other misty-eyed revellers, duly did.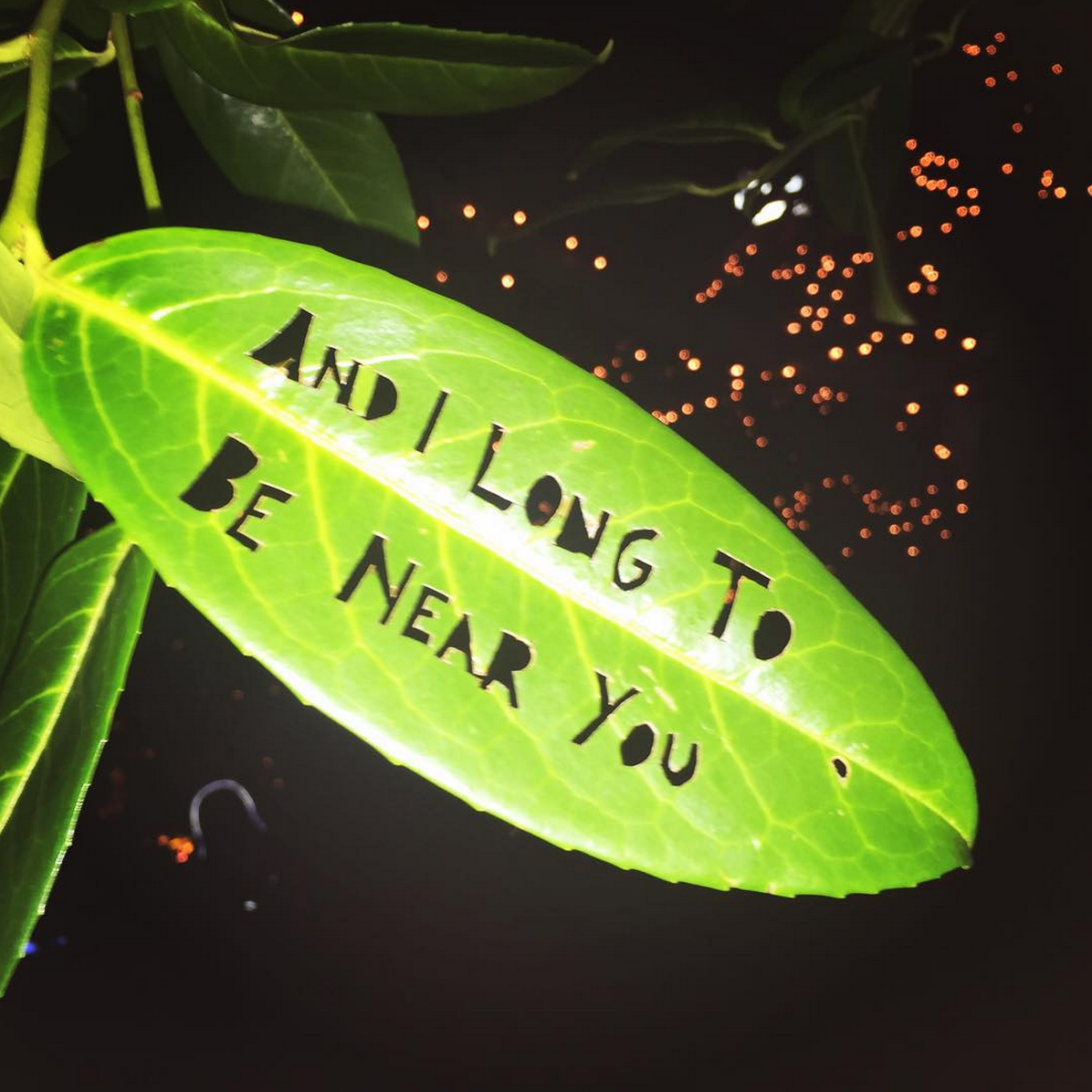 A mid-afternoon arrival at the festival on Friday saw the weather chilly and overcast with most of the musical focus apparently on Tame Impala supplying their dance-psychedelia histrionics to the Woods Stage in a blaze of technicolor and formidable flourishes. I found myself wandering around the enchanting Garden Stage with my better half and a pint of hot cider permanently attached to my mitt, engrossed by slowcore stalwarts Low and their brooding soundscapes. Their set is largely reliant on new tracks from their upcoming 'Ones and Sixes' LP and we stood as eerily hypnotised as the rest of the crowd who were showing impeccable respect by keeping their gobs firmly shut throughout a subdued but superlative display.
Saturday saw bright clouds swirl expansively overhead as we dashed between stages and acts, catching Beth Jeans Houghton shed her anti-folk past and embrace a charging and powerful pop-punk sensibility as Du Blonde in a howlingly wonderful performance that all but rams the final nail in the coffin of her previous incarnation. Meanwhile, on the Woods Stage, the impossibly talented sisters from The Unthanks, resplendent in clogs and dapper dresses, completely bewitch an audience drooling with appreciation of their traditional folk and crystalline harmonies, most notably on 'Magpie', as well as tugging at many heartstrings with lush and sprawling string arrangements throughout the set.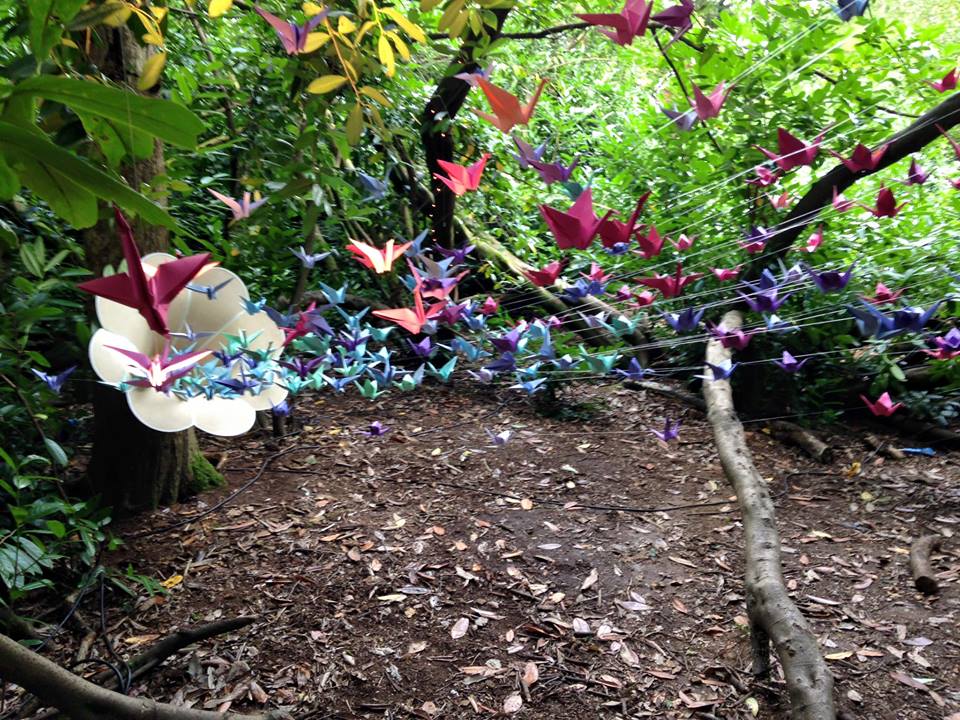 The evening brought a bitterly autumnal feel, and a general murmur of quiet anticipation to the festival as the long overdue UK festival debut of Sufjan Stevens promised something Godlike from a man who, funnily enough, halfway through his set, goes off on a lengthy monologue about how God instructed him to finally acquiesce and agree to play EOTR. Fair enough; whatever flicks your switch. What was flicking mine was the spectacular performance from a man apparently so reticent to play on a festival stage yet so comfortably at home here. The early part of his show draws heavily from his recent album about his mother's death 'Carrie & Lowell' and with howling exclamations of 'we're all gonna die!', it's a bristling performance, and unnerving test of the crowd's ability to acknowledge the rawness of it. It's a striking start, dark and atmospheric, that you know is only going to crescendo as he slowly introduces an exceptional array of musical tomfoolery to his most recognisable tracks: 'Sister' is reworked into a deafening epic while his most endearing composition, 'Chicago', is transformed into a Krautrock-esque bluster of squalls and brass.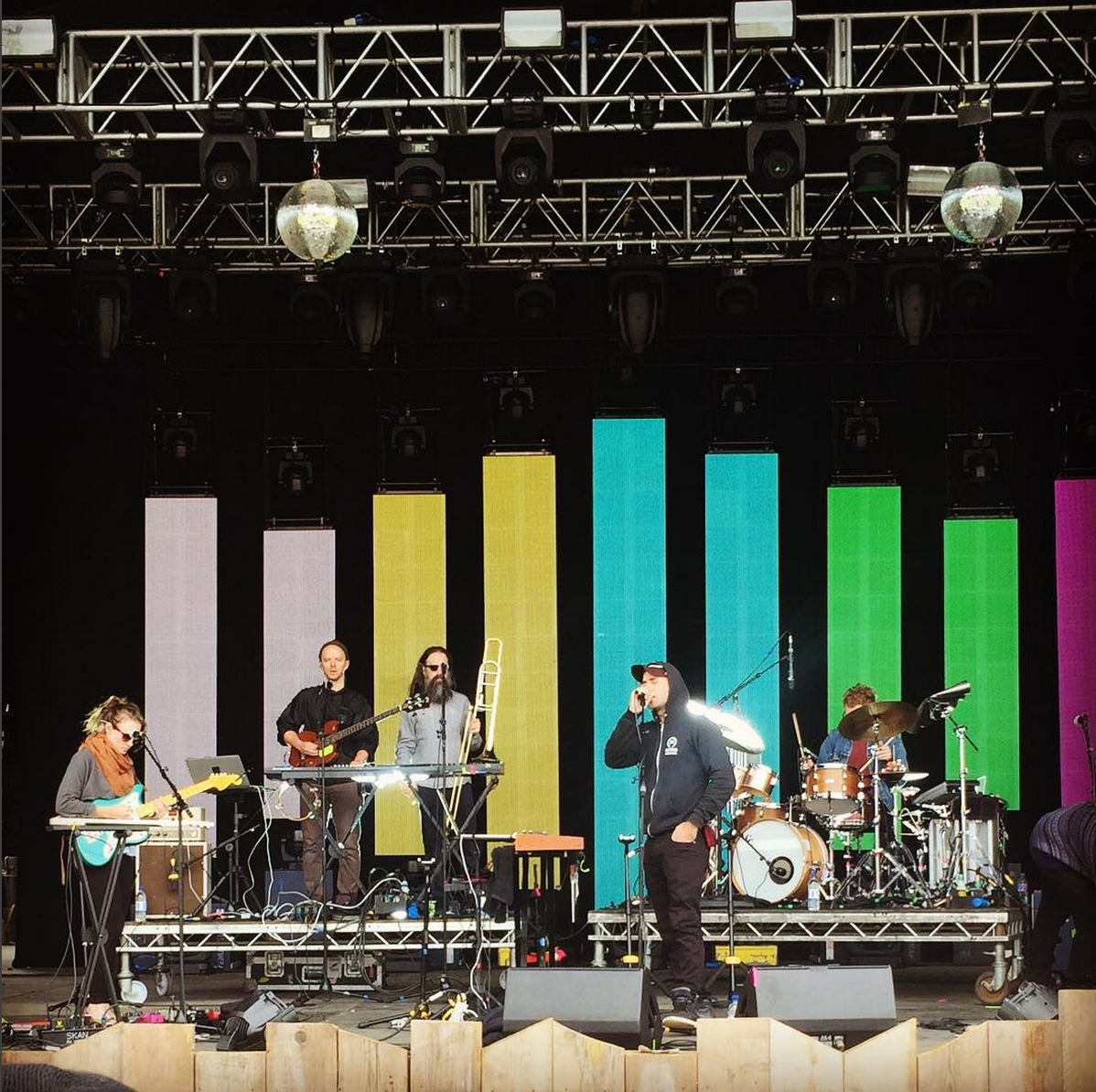 Stevens is chatty and warm throughout, engaging with a crowd so obviously as thrilled to be there as the man himself. He ends 'Blue Bucket Of Gold' as an ambient bliss-out, droning off gently into a freezing night, which, by the bye, didn't end there as we quickly high-tailed it to the delightful Disco Ship in the quite magical woodlands for a drink and a dance well into the early hours.
The Sunday awoke to a majestic morning of brilliant blue sky and searing sunshine. The foreboding bite of the coming autumn and winter beat a hasty retreat on our final day at End Of The Road Festival as the day itself promised much. It began with a couple of doubles of the finest gin and tonic known to man, and a bit of horseplay at the circus in the woods under glorious sunbeams before heading to a sweltering Tipi Tent to catch delightful folksters This Is The Kit waltz their way through some sparkling, melodic gems. As it was, the tent was so thoroughly rammed we could barely make our way in and had to settle for an out-of-view reclining listen in the adjoining bar area. Still, their lucid, shimmering and intelligent folk hit enough of a nerve to soothe our frazzled heads and help us on our way towards the Garden Stage.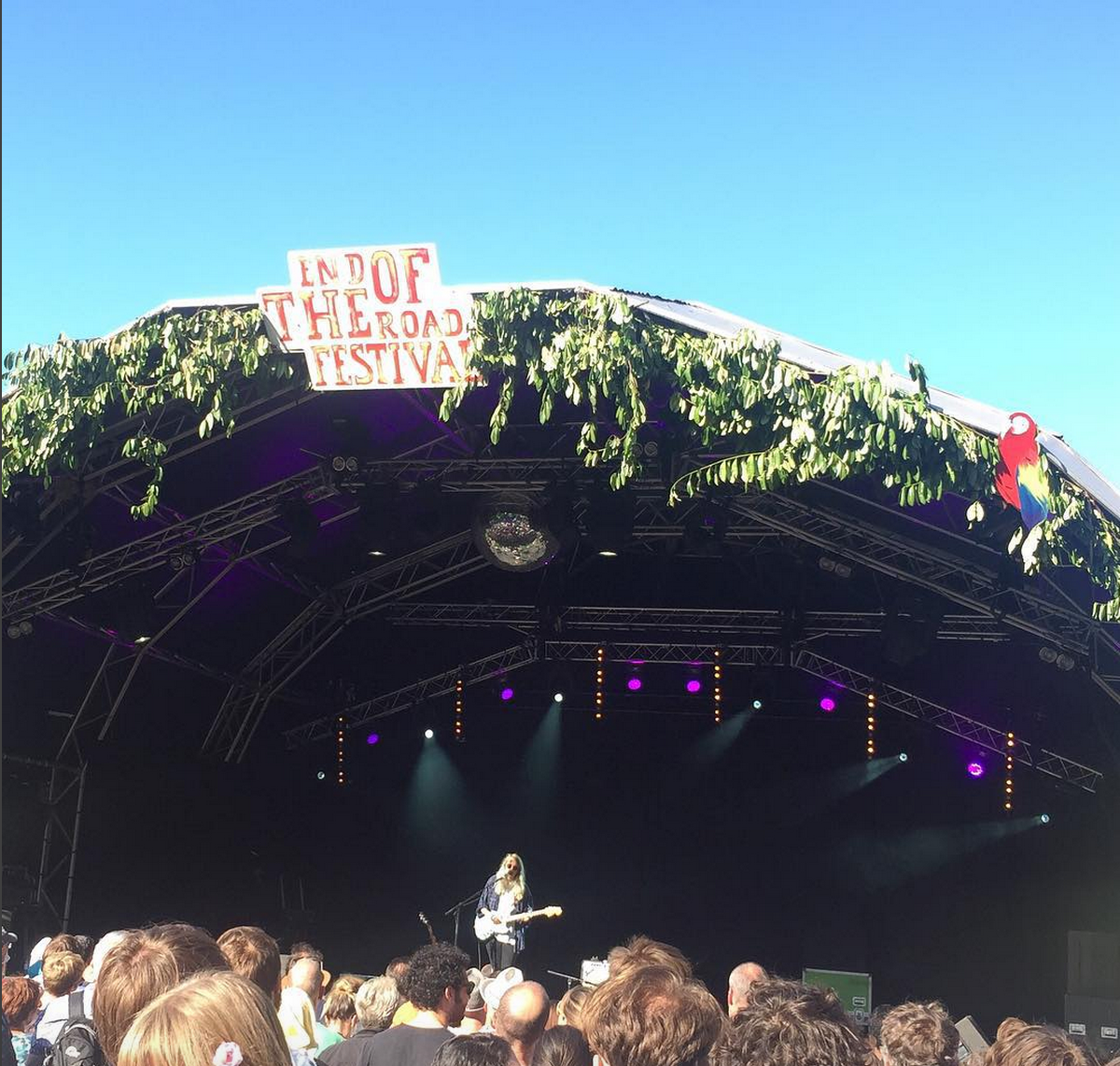 Here we caught Marika Hackman exquisitely enthral a huge crowd with just a silky larynx, sombre guitar and nerves of remarkable steel. We take seats in the warm air along with a thousand others and watch the crowd marvel at a marvellous performance. Her album 'We Slept At Last' is a near-perfect expression of macabre folk and ethereal flurries thoroughly befitting her rendezvous with the Garden Stage and all its bucolic atmospherics.
Highlights include the lightly dancing 'Ophelia', the darkly melodic 'Bath In Black' and lamenting set closer 'Skin' from which her velvet whispers seemed to float and hang gracefully in the EOTR ether. It's haunting and sparse; rich but raw, and delivered with an assurance that belies her softly spoken onstage demeanour. Before she departs she drops the crowd an all-too-obvious hint about playing the secret Piano Stage in the woods with a very special guest. No prizes for guessing who. We had planned on catching quirky Canadian indie-pop wonders Alvvays pop out the Woods Stage but only managed half an hour before we were wrested away to discover what was awaiting us in the woodlands.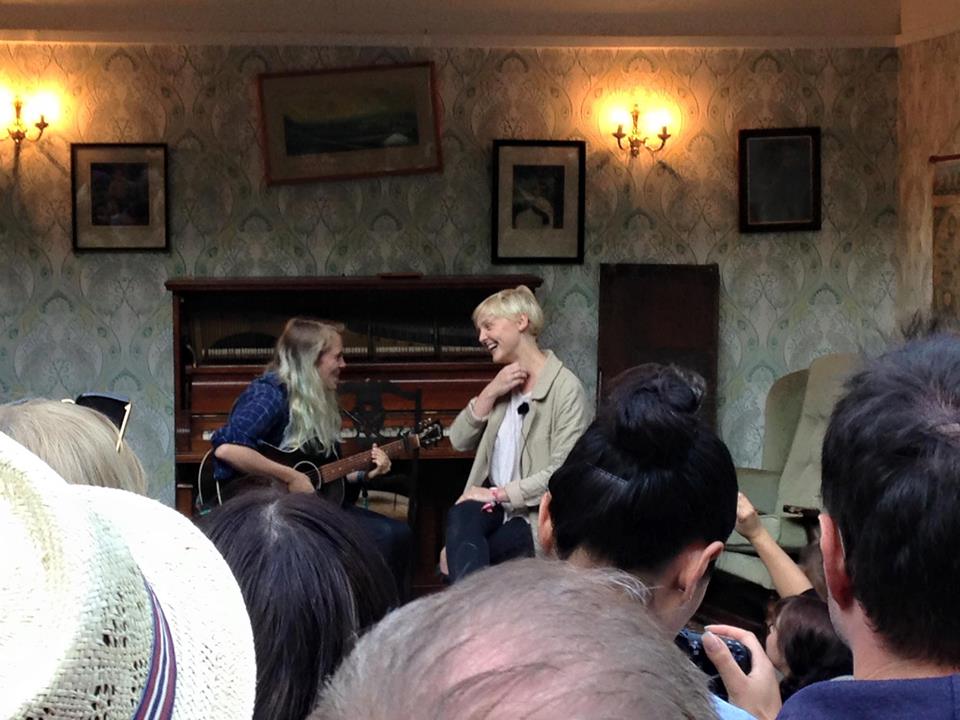 Quite a bit as it turns out. Despite Marika Hackman struggling to be heard over the glaring background fusion of Alvvays and Giant Sand, she pluckily persevered, ignoring management's urging to just give up, and requested the small crowd huddle towards her, delightfully creating a far more intimate and enjoyable performance for the audience. I'd already spied a certain Laura Marling in the crowd, seemingly proud as punch, watching her mate rattle off a couple of gorgeous numbers under the trees. Then all at once she was up on stage, giggling with Hackman about a false start before they duetted on a delectable cover of the Foo Fighters' 'Tired Of You'.
After the mini show I grabbed a brief couple of words with Hackman about the secret show, ('Could you hear me? Are you sure? Really though? Oh, that's good, then.'), and her thoughts on EOTR: 'Oh, End Of The Road is such a beautiful festival, and I absolutely love it here. It's the last festival of the summer so it's good to go out with a bit of a bang. The last time I played here was on a much smaller stage so to be asked to get up and play the Garden is amazing. It's a festival no-one should say no to.'
Heartily agreed. Alas, I cannot say I grabbed an interview with Laura Marling. I was thoroughly ambushed by a family of over-eager photographers who kept her all to themselves before she floated off into the trees to prepare for her headlining set on the Garden Stage.
Nowadays, Marling is a bona fide star; a well-travelled wanderer of the world with a body of work so masterful it simply boggles the mind how quickly she's developed since her debut in 2008. Artistically, there's no guessing where she's headed next, and this is quickly apparent as she strolls onstage to excitable applause and launches into a guttural 'False Hope' from her latest masterpiece, 'Short Movie'. It's abrasive and direct, and straight to the point: this is Marling at her most visceral and intense. Quite how being handed a simple electric guitar can almost completely revamp her sound is beyond me (see the director's cut of 'Short Movie'), and the same goes with the astonishing reworking of her back catalogue: 'Devil's Spoke' is transformed into rasping, thorny punk-folk, while 'The Muse' becomes a thumping rocker as opposed to the freewheeling folk-jazz it once was.
It's only midway through the set that she restores a sense of melodic familiarity with Marling reaching as back to her debut to offer up crowd favourites such as 'Ghosts' and 'Alas, I Cannot Swim' without forgetting to remind us that her voice is as exquisite as ever with crystal clear renditions of 'Once' and 'What He Wrote'.
It's also worth noting that Marling's technical ability with a guitar can be somewhat overlooked when compared to the development of her lyricism and song craft, if not criminally underrated. She can literally turn her hand from the lightest of fingerpicking flourishes to the most thunderous of howls. She's a truly accomplished artist of the instrument, and continued to dazzle as the set drew to a fascinating close.
And when she finally ended with a simple, nourishing performance of 'Sophia', it was simply left to the EOTR crowd to adorn and acknowledge a comprehensive and sparkling performance; an artist currently reaching new peaks with nothing else in her sights but more pinnacles. And as comparisons to greats like Joni Mitchell and PJ Harvey are constantly adhered to Laura Marling, soon it may simply be a question of how long before she leaves them in her wake?
The festival would end with another brilliant morning of sunshine, a long drive home and an emphatic declaration all round to come back next year. With bells on. As a first End Of The Road Festival experience – a 10 year anniversary one at that – it was pretty spectacular. Physically, I might be back but my mind's still down there, entranced and captivated by an unfathomable magic. EOTR apparently does this to people. Seems true in my case.
I got those early bird tickets by the way. Here's to next year!
Words: Chris Peet
Images: Chris Peet and For Folk's Sake