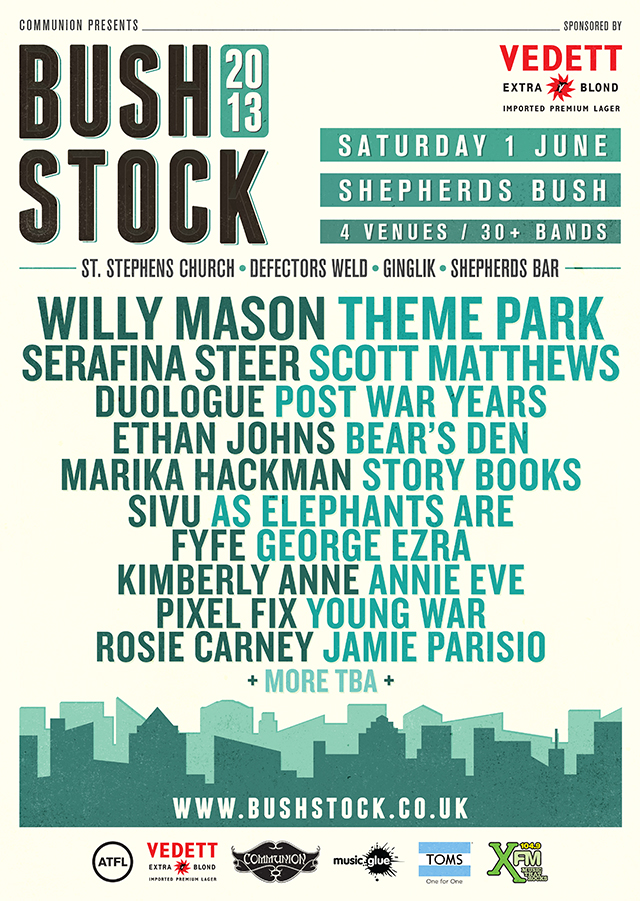 Bushstock festival returns for a third year in the heart of Shepard's Bush, West London.
This year offers up a pletitude of acts including Sivu, Thumpers and Roo Panes all performing across four venues.
Bushstock was set up by Communion records (Ben Lovett, Mumford and Sons) in the summer of 2006 and has gone from strength to strength, providing a independent platform for the most vital artists in London and beyond. Previous artists that have played the festival include Daughter, Mystery Jets and FFS favourite Alessi's Ark.
FFS attended last year, and we have to be honest, it was definitely a highlight of our 2012 Festival tours. The combination of  four awesome and unique venues, all within about 100 metres of each other, and the huge range of artists to be seen, definitely makes this festival one worth investing in.
Tickets are still available for only £27.50, which will get you in for the whole day and the official aftershow party till 4am!
To buy a ticket head over to Communion's website: here.
For those of you already with tickets, make sure you don't miss Willy Mason, Post War Years, Ethan Johns and of course Marika Hackman. We look forward to seeing all you friendly folk there!
Words: Michael Somerville