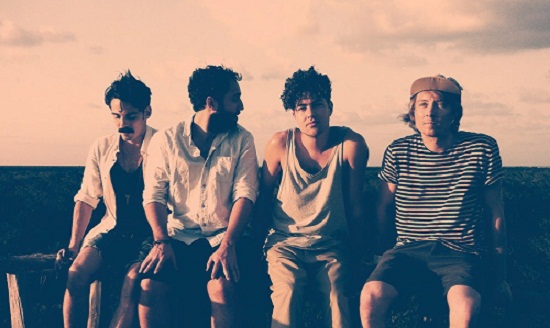 It's Valentine's Day, so you may or may not welcome the embrace offered by the closeness of bodies at tonight's sold-out Scala gig.  However, knowing that the next time we'll see them will be at the enormous Brixton Academy, we are hoping for as much intimacy as we can possibly get.  The lights dim, David Bowie's 'Young Americans' emerges from the speakers and LA's ruggedly handsome Local Natives take to the stage.
With 'You & I', the opener from their latest album, Hummingbird, Kelcey Ayer's flawless falsetto leads the way for the band's immaculate four-part harmonies.  It's an ironically heartbreaking start, but one which sets an impressive standard for the rest of the show.
The kinetic energy created by Taylor Rice's frenetic footwork and Matt Frazier's powerhouse drumming sends ripples through the crowd as they launch into 'Breakers', the first single from the new album.  Interestingly, it's this track that most successfully blurs the line between their newer and older material.  From here, we hear the wonderfully familiar riff and percussive build-up of 'Wide Eyes'… and now they have everyone's attention.
Where 2009's Gorilla Manor was punctuated with raucous refrains, Hummingbird soars seamlessly through richly-textured soundscapes.  The crowd go from shouting in unison during their frantic cover of Talking Heads' 'Warning Sign', to swaying gently as they're cradled by the dreamlike 'Columbia'.
The latest single, 'Heavy Feet', comes in the midst of a clutch of new material, but predictably it's 'Airplanes' that gets the biggest response of the evening, as the band is joined in a rousing sing-a-long by a delighted audience.
Having split from bassist Andy Hamm in 2011, they stand before us now as a four-piece, shrugging-off comparisons with Grizzly Bear and Fleet Foxes.  The hype surrounding them in recent months has been huge, but it's fair to say that they're one of the tightest bands around – vocally and instrumentally commanding the stage, like The Beach Boys' indie-folk-rock nephews.
The encore brings an emotionally charged, spine-tingling rendition of 'Who Knows Who Cares', and now even the hairs on the back of our necks are standing in ovation.  Closing with the pulsating 'Sun Hands', Local Natives send us off into the cold Valentine's night, arm-in-arm and filled with a welcome Californian warmth.
words: Puja Maniar