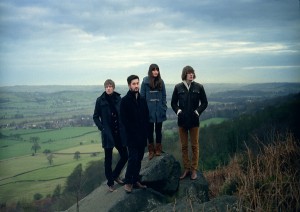 It's time to elevate Ellen and the Escapades to the status of 'FFS favourites'.
The Leeds band, who soared into FFS's consciousness by winning the Glastonbury Emerging Talent competition in 2010, are on tour with a debut album, All The Crooked Scenes, to promote and a lorry-load of Escapale – their own beer, brewed by Revolutions – to go with it. The tunes are wicked addictive, but there is no doubting what makes the band stand out: Ellen Smith's frankly astonishing vocals. Subtle, smoky, dusky, rich – her voice is malt whisky, it's vintage wine, it's a pint of Escapale. It's a thing to savour.
An extended intro to album opener 'Run', which starts the show, is a suitable tension-builder, and when Ellen starts to sing it's a genuinely emotional moment. 'Without You' picks up the pace and already the crowd are hooked. Ellen wears the faintest of smiles throughout and every round of applause seems to be a pleasant surprise. The band may have been flirting with the spotlight for a couple of years now but they are clearly enjoying every moment.
It's a treat to see a band as adept with a ballad as they are with a toe-tapper, and if the tunes occasionally stray towards the Radio 2 daytime, Ellen's unique vocals stop them being ordinary – a fact underlined by a cover of Tears For Fears' 'Everybody Wants To Rule The World', performed for someone who contributed to the PledgeMusic campaign which funded All The Crooked Scenes. "Different, isn't it?" says Ellen afterwards, in her surprising Yorkshire monotone.
Highlights include single 'Coming Back Home' and the unashamedly simple 'Always In My Heart', written for her cousin's wedding and every bit as tender as that sounds. It's not all about Ellen, of course. Keyboard player Christopher Quick is an infectious joy, while the harmonies are as tight as a drum.
During their 'encore' – they dispense with the pantomime of leaving the stage and coming back on again because they think it's "weird" – Ellen makes a final plug for the album. "We're just really proud of it," she says. And so they should be – it's every bit as good as you'd hope – but it's live where the band are truly at their dazzling best.
Ali Mason