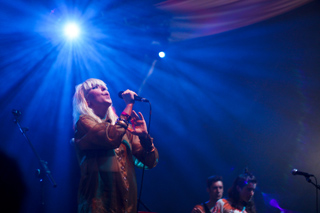 As we stand on Scala's balcony overlooking our fellow audience members, we're utterly transfixed by Austra.  The only thing that can interrupt FFS's state of mind is the raucous applause that separates each of their songs. Like many sailors drawn by the sound of the Sirens, we're lured to the stage by the dulcet tones of Katie Stelmanis and Sari and Romy Lightman, and we're doomed.
Opening with 'The Beast', Stelmanis takes to the stage alone, gracefully and flawlessly playing the song's classical piano melody. The initially light tune grows into something more dramatic and gothic before her operatic vocals kick in. Nonchalantly, the other members of the band join her onstage, helping raise this marvellous musical construction to ambitious heights.
One of the strengths of Austra's album and EPs lies in how varied their sounds is, and this was perfectly illustrated in their live show – we're taken straight from somewhat classical 'The Beast' to the relentless electro beats of 'Young and Gay'. There's something almost otherworldly about Austra that becomes more evident during this second song: Stelmanis' arms now glide through the air as if a world has been erected between the audience and stage, one for which she conducts an invisible orchestra.
Despite this, there doesn't seem to be a disconnection between the performers and spectators: Austra very much perform for the crowd; drawing them in and conversing with them about such things as the apocalyptic rain and whether the Mercury Award winner has been announced yet.
From the outset, the audience is engaged in the performance, but it is with 'Lose It" and 'The Beat and the Pulse' that the show becomes a party. Austra work the audience into a frenzy, eliciting a head-bob and shuffle in 90% of its members in response to the song's catchy riff. The gothic elements of the band are particularly evident in 'Lose It', drawing to a close with the eerie chant "In the darkness comes, another, another. Hold her by the thumbs, the other, the other." The set is completed by 'The Beat and the Pulse' in which the energy  of 'Lose It' is cranked up once more, ending the set on a dizzyingly high note.
The encore consists of a seamless performance of 'The Future' followed by a stellar rendition of Joni Mitchell's 'Woodstock', beautifully closing the show. Austra's final UK tour date nears perfection; the only problem lies in the question of when we'll next be able to see them.
Sapphire Mason-Brown