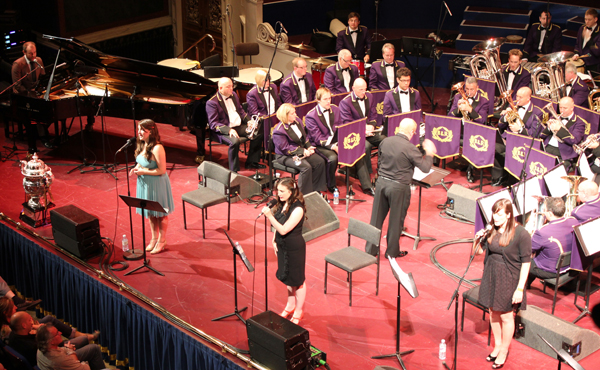 We're stepping out of our comfort zone here, all of us. FFS is not used to attending gigs – no, wait, this is definitely a 'concert' – in venues like the magnificent 19th century Leeds Town Hall, and while the usually understated Unthanks might have expanded to a ten-piece recently they cannot be too used to sharing the stage with a 30-piece brass band.
But having been asked to take part in a special commission to perform with the national champion Brighouse & Rastrick Brass Band, the Unthanks leapt at the chance. On one level, it might seem bizarre, on another it is an entirely natural fit. Steeped as they are in the history of their north-east roots, the Unthanks girls have long sung about miners and mining history, while the band's songwriter Adrian McNally grew up in the shadows of the Grimethorpe Colliery made world famous by Brassed Off.
After taking a crash course in how to score brass music while at the same time welcoming a new-born first son into the home, McNally – husband of Rachel Unthank – wrote a handful of new songs as well as beefing up favourites from the band's back catalogue to perform in this set. The result is a stirring sound, the Unthanks' shimmering vocals complimented gorgeously by the brass, at once thick and sweet like golden syrup.
The lyrics grab the emotions too, none more so than on 'Trimdon Grange Explosion', a song based on Tommy Armstrong's poem about the mining disaster of 1882 in which 74 people died, including boys aged 11, a man working his last shift before emigrating, three brothers, as well as a man whose funeral would take place on the day he was due to be married. As the concert was taking place, news was breaking of the tragic events taking place right now at the Gleision Colliery in South Wales, a stark reminder that this is not only our history but part of the present.
The Unthanks also delve into their own rich history, bringing new life to songs like 'Newcastle Lullaby', 'The Testimony of Patience Kershaw' and 'Blue Bleezing Blind Drunk'. Ewan Maccoll's 'Nobody Knew She Was There' gets a re-working while McNally also unveils the specially written 'Father Suite' – a tribute to the new-born baby George.
If the idea of the Unthanks' songs being turned into huge brass movements requires a leap of imagination, the highlight of the set takes a much bigger one. For when it comes time to perform one of the stand-outs of Last, 'The Queen of Hearts', vocals are handed over, unusually, to Chris Price, and the brass band quickly morph into some kind of mass funk unit to blast out a rip-roaring sound the likes of which we've never heard before.
They close with a beautiful rendition of Terry Conway's 'Farewell Regality' as McNally apologises that, unlike their usual gigs, there will be no encore. There are, after all, more than 35 musicians on stage. "Can you imagine how long that would take?"
The Unthanks' tour with the Brighouse & Rastrick Brass Band continues with the following dates:
Sat Sep 17 Bristol St George's
Sat Sep 24 Northampton Dearngate
Sun Sep 25 Derby Assembly Rooms