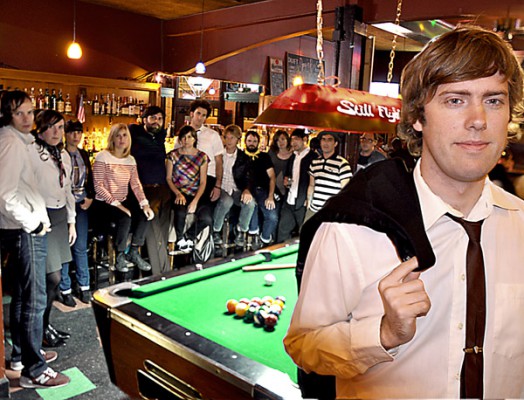 FFS wasn't at Pavement ATP this weekend. Because we didn't want to be*. But one of our favourite interviewees ever, Still Flyin', were along with Blitzen Trapper, Wildbirds & Peacedrums, Broken Social Scene and some band called The Fall. Sean's taken the oppotunity to put together a list of his top 10 Pavement tracks. And we've put the ones that were available in to a Spotify Playlist.
*lie
Sean says: "Pavement were one of my favorite bands in high school.  I don't think any of my music has ever sounded very much like them, but their aesthetic and attitude and worldview have probably had a bigger musical influence on me than any other band.  The high school version of myself would never have imagined I'd later be in a band picked by Pavement to play their festival."
1. Gold Soundz Probably my favorite Pavement song.  Just love it when it comes to the chorus now.  One of the best vids of all time too.  Probably the reason for a lot of annoying videos I've been involved with, like this.
2. Frontwards and

3. Shoot The Singer Two highlights from my favorite ep (and favorite Pavement release) of all time.  Four sick songs that are of the highest jam percentage.  I remember playing Frontwards over and over again in high school with Bren (Still Flyin percussion and vocals) and Phil (Still Flyin hype man).  Our band was called SIDE PROJECT.
4. Kennel District and

5. Two States These two are dear to my heart because I got to sing these with Spiral Stairs several times at festivals in Canada and Australia.
6. Range Life Another song we played in high school.  Great lyrics – man I hated Smashing Pumpkins at the time, but now the Corg is kinda fascinating.  1979 is a pretty good song and now he's in professional wrestling commercials (!?!?!).
7. I Love Perth I love Perth too.  The most isolated city in the world.
8. Debris Slide What a rollicking hoot.  Take a ride on the Debris Slide.
9. So Stark (You're A Skyscraper) Pavement are one of the best b-side bands ever.  Fans couldn't skip over the single versions because the b-sides often turned out to be some of their best songs.
10. …And Carrot Rope Poor Carrot Rope.  It didn't even get a track number on the album – just "…And Carrot Rope".
Still Flyin' are playing 3 london shows this week. Barden's Boudoir on 18th, The Flowerpot on 20th and Stag & Dagger on 21st. Click here for a free download of 'Higher Than Five' from their forthcoming EP A Party In Motion.