Steve Watson of Before the Goldrush runs down this week's stellar line up…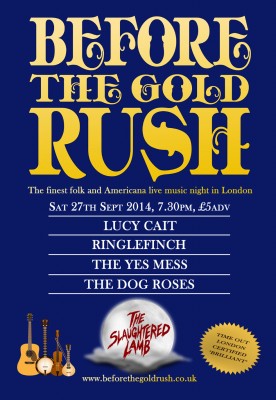 Hello FFSers!
This Saturday (27th Sept) BTGR returns to The Slaughtered Lamb near Farringdon for another night of fantastic live music. The Lamb is really on the up at the moment, and we're happy to be there in the upcoming months. New management have come in to the venue and are very keen to bolster the great reputation it already has as one of London's best smaller live music destinations. We hope you'll join us. If you do, here are the acts you will see performing.
Lucy Cait
A mysterious package if ever there was one, Lucy Cait surprises the first time you see her perform. She sings with a delicate but soulful voice. Her lyrics, and the understanding and depth that she imbues them with assure an avoidance of any lazy comparisons to London infused 'girl with guitar' contemporaries.
The Yes Mess
The Yes Mess are an enigmatic, funky, hook laden five piece that rattle the same hallucinatory cages as the Beta Band at their oddest, with elements of Syd's Pink Floyd in the mix.
Ringlefinch
Ringlefinch are an alternative folk band with an eye for mischief, an ear for an earworm, and a beat for your feet! Their unique sound blends the strong melodies and storytelling of folk music, the toe-tapping rhythms of swing and jazz manouche, and dark-humoured, wittily introspective lyrics to create rabble-rousing songs with moments of genuine tenderness.
The Dog Roses
The Dog Roses are South London's most original country rockin' bluegrass quintet. Influences include Johnny Cash, Flatt & Scruggs, Stanley Brothers, Louvin Brothers, Hank Williams, The Beautiful Game, American Old-Time.
Before the Gold Rush is at The Slaughtered Lamb this Saturday, Sept 27. Entry £5/£6. Great Sutton Street, EC1V. 7.30pm 'til late. For advance tickets please visit beforethegoldrush.co.uk.