Firstly, to any avidly loyal readers out there (Dad?) I sincerely apologise for not writing an entry for February. Mostly to the bands who played at our event on 23 Feb who SHOULD have received the recognition… so super speedy re-cap: we had Boat To Row, Pocket Satellite, Worry Dolls, Joe Innes and Scowlin Owl. each and every one brilliant. Also all favourites of this very website I believe so please go and check them out, because not only I say so but FFS does too. Here's a wee pic of Boat To Row, being great.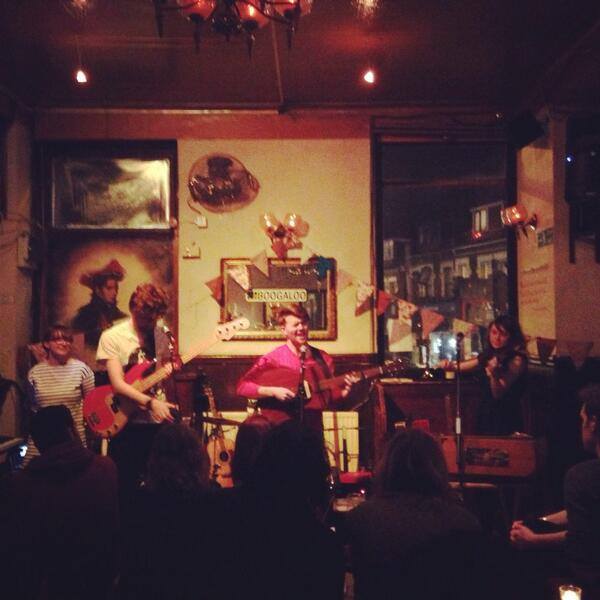 The reason I failed so abysmally to write anything in advance of the last Sunday Fete was because we were touring with the effervescently wonderful Keston Cobblers' Club all around the UK and Mrs Muggins here was driving around a very rainy country for two weeks and didn't get a chance to write. Sorry. But that pretty much sums up what we've been up to. Here are a couple of our favourite snaps from the tour, an accurate overview of our time spent on the road.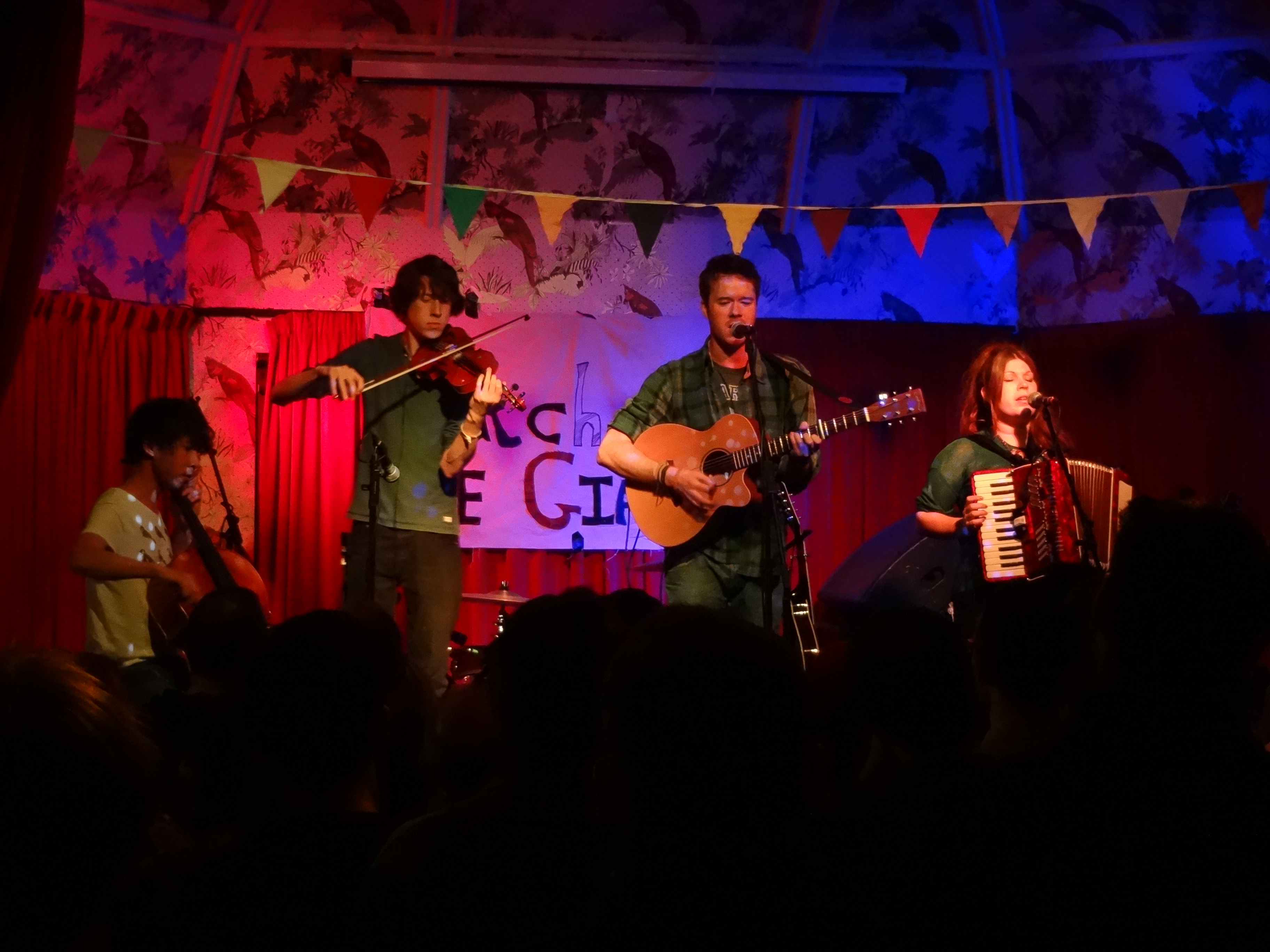 The Deaf Institute, Manchester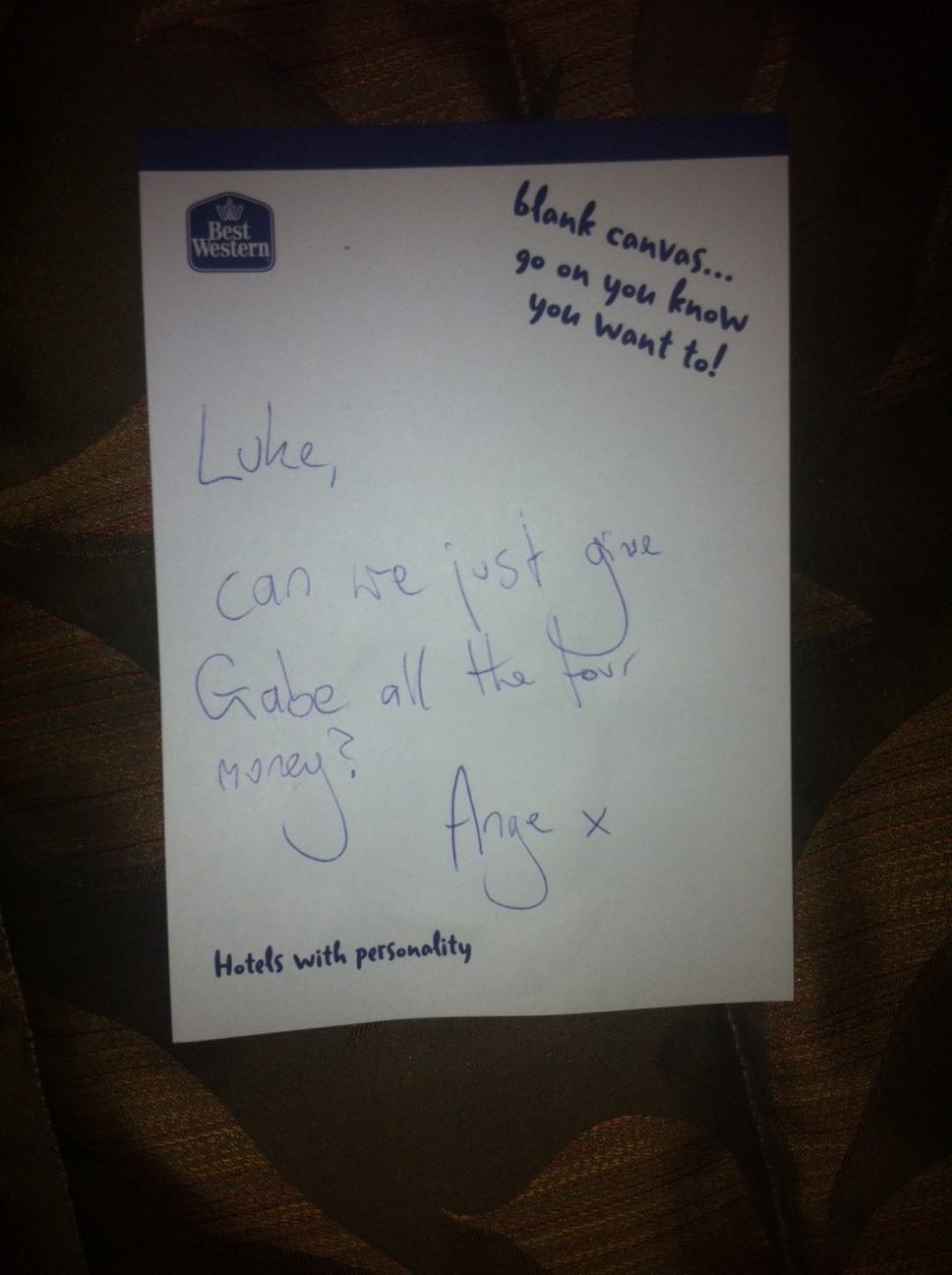 Tricksy Gabriel trying to fool Luke… pretty apt considering I very nearly lost all the tour money later that evening (shhh – I'm a great tour manager)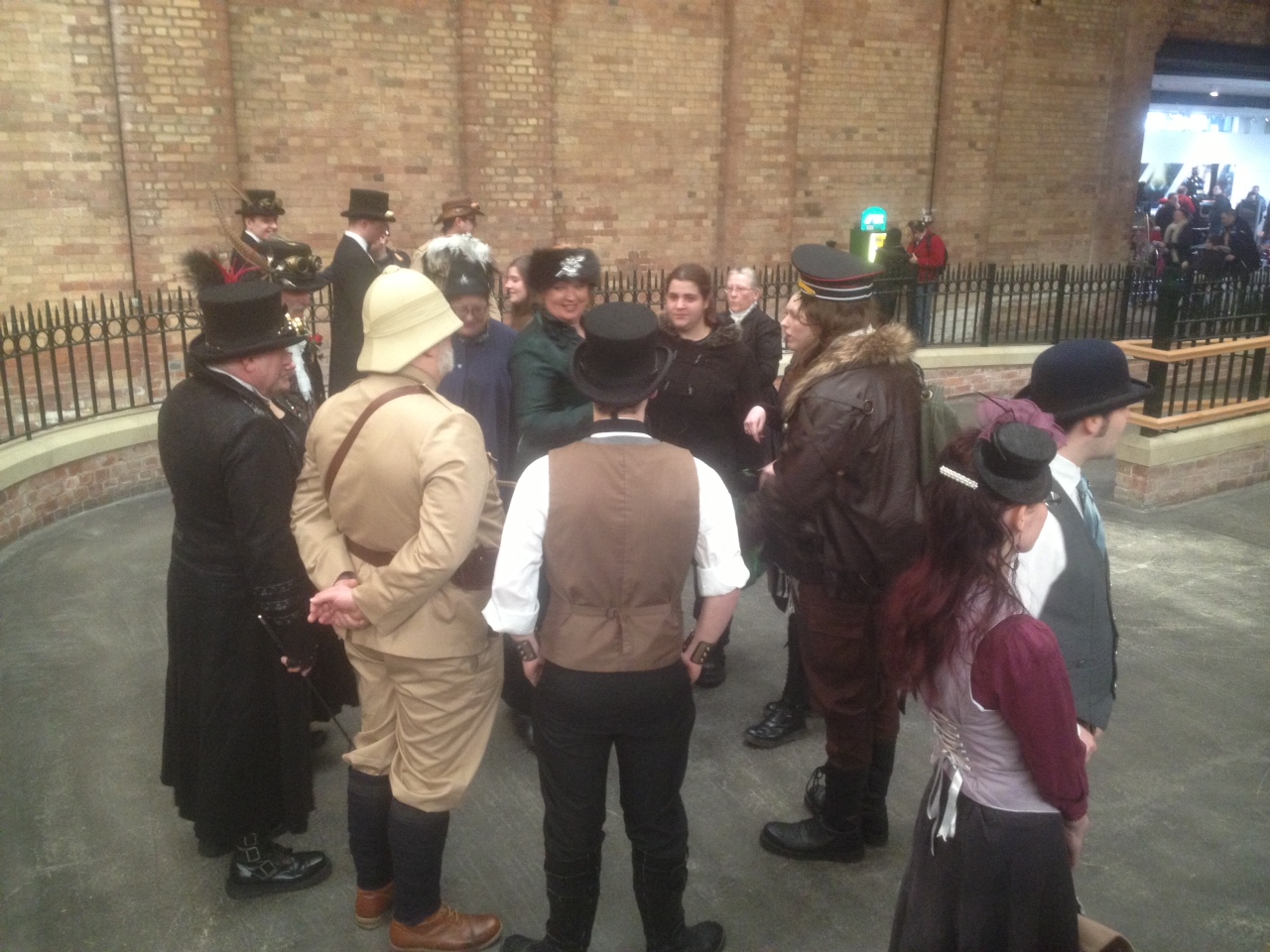 A rabble of steam punk enthusiasts gathered at the National Railway Museum in York where we ventured during our free day
In other news, it was announced last week that we're playing at Hop Farm Festival. We didn't actually know this, we just saw our name on the poster when a friend tweeted the link. On further investigation the festival clarified that they 'put our name on the poster in the hope that we could play'. What peculiar way of booking. Incidentally, I'm including The Rolling Stones on the poster for the April Sunday Fete. Hopefully they can play…?
Anyhooooow, back to the Boogaloo we go on 30th March and in tow are yet another pick of our favourite musicians from around here, there and everywhere. All but one are newbies to the Sunday Fete so we are very excited to have them. A new addition since my last blog is that of No1 Party Banger – two actors-turned sausage chefs who have been preparing and serving the finest artisan hotdogs for the carnivorous and veg-loving masses (of which there are usually many at our events). It's seriously yummy stuff.
The Sunday Fete is held at The Boogaloo in Highgate, north London. Doors are at 3pm and we shall be presenting the following acts throughout the afternoon, interspersed with music from ourselves. Join us for a Mothering Sunday special and bring your mum, she'll love it.
The lovely Jack Pout (whom you're about to hear more of) urged me to listen to his friends The Crosstown Trio and get them along to the Boogaloo…so I duly did and after an amount of jiggery pokery in the diary department managed to get them on the bill with Jack so that we can all play happy families. The first of two artists booked for 30th March to have received a nomination for the BBC Radio 2 Young Folk Award, this trio have a sound which is very much wise and mature beyond their years – and I mean that not in a patronising way – it just oozes far more confidence and intrigue than one would expect from an act young enough to be short-listed for an award which precludes anybody over the age of 21 entering. They have a fabulous swing and feature everybody's favourite gigantic bass instrument. Having recently supported artists including Oysterband and The Blockheads, the video I'm choosing to share being of of their gig supporting the latter at Jazz Cafe in London, Take It From Me
<a href="http://www.youtube.com/watch?v=JimNRQ3IH54">http://www.youtube.com/watch?v=JimNRQ3IH54</a>
I met Jack at The Harrison pub (a lovely hub of all things folk and ale related), at one of the many great gigs curated by Folkroom Records. In honesty the 'meeting', if I remember it, consisted of me not-very-soberly handing him a business card and mumbling something about a night that I put on in Highgate. My memory was clear enough however to know that I very much enjoyed his set at this Folkroom gig – despite receiving a very prestigious Folk Award nomination, folk isn't necessarily how I'd first describe Jack and his band's music…I remember something infectiously and energetically great about the live sound and the more I listen to the record the more I feel the same feeling I get when listening to Stornoway. Which is a feeling of strange positivity and upbeatness. Fresh from supporting the mighty Spiers and Boden, these boys have a great album out called Getting Off The Ground and my pick of the songs to recommend is Confetti, filmed here for Epic TV: http://www.youtube.com/watch?v=6Oyr8KdcNwo
Our path first crossed with Nick's at the delicious Jamboree venue in Limehouse a little over a year ago on a Saturday evening, following a raucous Burns Night party hosted by our Scottish contingent (Sara and Gabe). I mostly remember two things from this evening: (i) Ed convincing me that Absinthe would be a great way to be rid of the Burns hangover and (ii) that Nick Harris is a flipping genius. Recently 'long'-listed for the 2014 Glastonbury Emerging Talent competition (having found this out in a similar fashion as our little Hop Farm revelation), we've found a great ally and friend in this man since the first meeting, to the extent that we can proudly say we're taking him on tour with us in May. As a musician, Nick is best described as a progressive acoustic guitar player, singer and mean harmonica player. As a frisbee player he is best described as to be avoided. Oft-accompanied by Hayley on the fiddle and voice, Nick's live set is captivating, raw and puts most other guitarists to shame. His debut album, Chimera, featuring collaborations with Ted Dwane of Mumford & Sons and Emma Gatrill of The Mariner's Children, is out now and he's currently working on album number two – which I have had the great pleasure of adding some strange ambient noise to. Leaving you with this video of Nick and Hayley filmed at Camden's Spiritual:
Surprisingly I find myself often far too critical upon my own fair sex when it comes to singers and generally very hard to please when it comes to female vocalists. This is absolutely not because I have any crazed alpha female complex and there are many whom I think superb but, as a rule, I just prefer the male timbre, instrumentally speaking…. I must stop digging though and move on to the fact that Oh Sister, aka Sarah Berresford, is just fab. She's the kind of singer I'd describe as a girl with balls, as well as heart and emotion; a singer who makes me like girl singers. I don't know which song (if any) she takes her stage name from but there are at least three to my knowledge (Bob Dylan, Neutral Milk Hotel, City & Colour…or indeed 'Oh Sister, Let's Go Down…') but that's probably beside the point. Her voice has elements of lots my favourite female singers, particularly Melanie Safka and Emily Barker and her guitar playing accompanies perfectly. She has I believe, just recorded a new EP with Ben Walker and I'm keenly awaiting more news of this. Having uprooted herself from her native north-east and moved to London at age 17, she has most aptly warranted the praise of The Independent amongst others – 'Just by watching her play, you can tell what a dedicated artist she is…she plays as if there is no one else on the room'. Having seen the name around town for a while I first saw this lass play at our friend Sophie Jamieson's (another dear friend who is definitely on the list of lady singers I think great and fine) EP launch last summer and am really looking forward to welcoming her to the ranks of Sunday Fete veterans.
Check out: For The Dales: http://www.youtube.com/watch?v=dtvIjzD1Elw
In a running theme of everybody recommending their friends, Dan came to my attention by none other than our friend Nick E. He's also getting married the day before the gig….so we intend to show him a great honeymoon in Highgate, and so should you dear reader. Dan is an acoustic folk guitarist who cites his influences as Oscar Wilde, Neil Young, Kenny Rogers and tea. He was short-listed for the Mayor of London's Big Busk competition in 2012 and finished an extremely commendable 10th in the public vote, after playing gigs outside some of London's most honoured landmarks including St Paul's Cathedral and The Royal Exchange. And in a running theme of siblings (which is kind of apt on Mothering Sunday cause without mums you wouldn't have siblings) I'm going to share his beautiful song Brother, recorded with Nick: