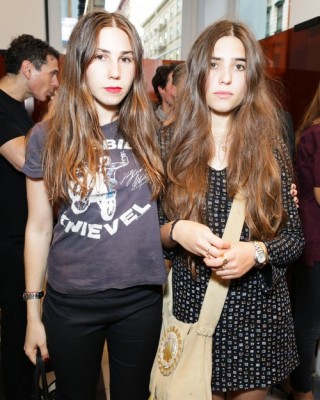 Zosia Mamet, better known as Shoshanna in Lena Dunham's HBO dramedy Girls, has announced a folk music project.
The Cabin Sisters is Zosia's project with her sister Clara (also an actress). They're asking for $32,000 via Kickstarter to make a video for their song 'Bleak Love'.
Kickstarter works by asking for donations to fund a project in return for various treats. In Zosia and Clara's case, you can get get a digital download of their first album for $25, for $2,000 you get to Skype with them (imagine!) and for $5,000 you can go to a 'classy' film screening with Zosia.
There's are pretty great comments up on Kickstarter already – from people who've donated specifically to slag them off. For example:
"How about instead you go and get jobs to subsidise your music? Oh wait, you already have a well-paying job? And, by basically any reasonable standard, you are extraordinarily wealthy?

"THIS IS A REALLY GROSS THING TO DO. YOU ARE BAD PEOPLE FOR PUTTING UP THIS KICKSTARTER."

– Sean Robinson
So leaving aside for a minute the total nonsense of taking a crowd-funding platform like Kickstarter – ostensibly set up to help the little guy get worthy projects off the ground – and using your fame to suck money out of silly fans. Let's just think about what exactly they're asking for.
Thirty-two thousand dollars for their FIRST music video.
Heads up to the Mamet sisters: For your first music video you either have record company backing or you do it yourself,  on whatever budget you can afford – maybe roping in some pals.
To be clear: you have not yet earned the right to spend $32,000 of other people's money on "beautiful gowns, statues, a large opulent loft space, extensive make-up and saturated tones needing an anamorphic lens".
We've rounded up some videos made on rather more modest budgets to give you some ideas. YOU ARE WELCOME.
FOR ZERO POUNDS: Joe of Joe Innes & the Cavalcade* got the digital scissors out and used iMovie to make this video for The Frighteners using an out of copyright horror film from the public archives.
FOR ZERO POUNDS: Joyce the Librarian made this "with the help of family, friends and a few unsuspecting customers of the cafe whose basement we borrowed".
FOR APPROX £50: Reichenbach Falls made this single shot video for a "couple of rounds of drinks for the dancers/driver. Single-shot, director worked for free".
FOR 500EUR: On the other end of the DIY scale are Paul Creane & The Changing Band who spent 500EUR on this profesh looking effort.
*full disclosure: I play piano in this band