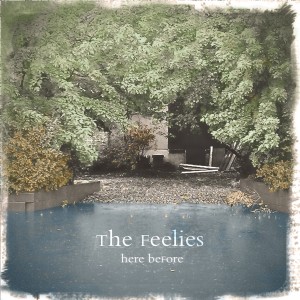 Time is an elastic concept for the Feelies. Their latest, Here Before, syncs naturally with their previous recorded work despite being separated by two decades. Songs like 'Again Today', ' Nobody Knows', and 'Should Be Gone' will make fans feel as though they have just reacquainted with an old friend without the sense that any time has passed.
This being said, the band is not merely picking up where they left off. They remain straightforward, concise yet not sparse, and positive, but they are clearly from writing from their current position in life rather than recreating some past idea or aesthetic. The tone of the album is decidedly more relaxed, and the solos and instrumental breaks are less aggressive than in their older work. Still, for the uninitiated, the discovery of the Feelies will be a boon for any Lou Reed, R.E.M., or Talking Heads enthusiast.
True to form, they build some pleasing textures using simple instrumentation as the foundation—look for the bells on 'Later On,' organ on 'Bluer Skies', and guitar and piano using a single note on 'Morning Comes'. Also, Stan Demeski accomplishes some notable dynamic shifts using only a ride cymbal.
The album title, track names, and lyrics share brevity that is liberating. What needs to be said is said, little more. Further, the lyrics are consistently encouraging, for instance on 'Time is Right': "Find a way/without a plan/take each day/as best you can/something for the world to see/the time is right for us to be/the time/right/now/tonight/". The Feelies seem happy to be back and we are glad to have them.
Words: Paul Kellner