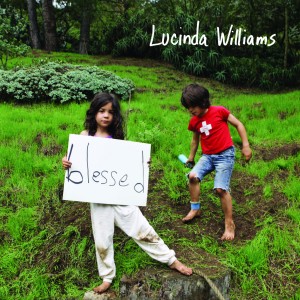 Lucinda Williams is at her best angry, scorned and burning with a fiery passion. But while we were happy for her and everything, her marriage to Tom Overby made 2008 album Little Honey, which he produced, sound like it was missing an edge. Now, I've no idea how they're getting on, and I hope for their sake they're doing well together (he co-produced this album too, so we'll assume…), but for whatever reason, Lucinda has got her fire back. And that is fantastic news for Blessed.
With a name like that, you might be expecting a upbeat album. Not so. It wastes no time making that clear, opening with the stormy, aggressive 'Buttercup', a track that recalls the best moments of her career to date. Lucinda has also rediscovered the blues, delivering in spades on the story of a lost love, 'I Don't Know How You're Living Now', and the whispy 'Copenhagen', a sweet lament for one who passed away. Death returns as a theme on the rollicking 'Seeing Black', written for the late Vic Chesnutt.
The point is, she's got her mojo well and truly back, and the result is the most satisfying album she's made since the epic Live @ The Filmore came along in 2005 and changed everything I'd ever thought about the studio albums that went before.
There's depth here too. 'Soldier Song' is a bleak tale of an war veteran, while the title track sees Lucinda count her blessing but not in an exuberant way, but in the manner of someone lamenting the suffering of others. At the age of 58, and on studio album number 10 of a never-rushed career, Williams still sounds as vital as ever.