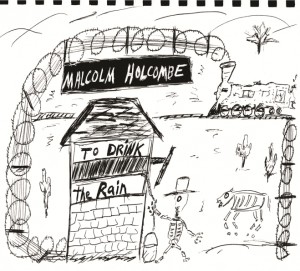 For those that don't know Malcolm Holcombe, he's an old-fashioned southern American troubadour – the way you'd draw one up in a film (actually, he's probably not far off Bad Blake from Crazy Heart). His rugged, weathered face is complimented by long hair and killer sideburns, and he sounds like he looks – singing with a gruff voice that could plough the tobacco fields of his native North Carolina. His music is in the American folk tradition of Townes van Zandt and Levon Helm, a rich seam of country blues that can be traced back to Johnny Cash and beyond.
To Drink The Rain is the eighth album of his long, winding career that has seen him record for seven different labels. He seems to have found a home on Austin's Music Road Records and this is the most upbeat album in a back catalogue of troubles and self-destruction. "I put my britches on one leg at a time," he exclaims in opener One Leg At A Time, the sound of a man finally coming to terms with himself and beginning to enjoy life. Title track To Drink The Rain is a raucous celebration of a man finally ready to let that lengthy hair down.
But even allowing for a few smiles, Holcombe has spent his life singing the blues, and is not about to stop. And there are many fine examples here, such as the grating sound of Comes The Blues. Despite being championed by the likes of Lucinda Williams and Jeff Tweedy, Holcombe has remained something of a hidden gem. Now in his 50s, it's still unclear where Holcombe's music career might be leading, but for now he's produced an album that sounds like a healing experience for an aging bluesman. And that might just be all he needs.