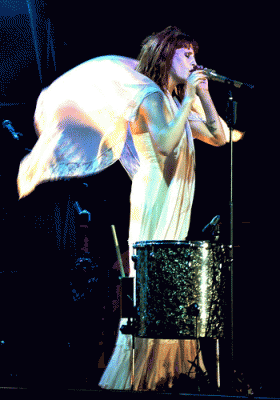 It may be worth starting a consideration of this performance of Florence Welch and her Machine with reference to the end rather than the beginning: "This may be the last time you see us for a while, this is one of our last gigs in London because we've got to go away and make some new songs".
This was an aside in between encores, but it was an important reminder that Florence is still singing and promoting her debut album, Lungs (which was released in time for last year's festival circuit).  Demand to see her live has been immense and, after four years of performing, the songs might be in danger of sounding old, however fresh the live show remains.
Somerset House is possibly the perfect setting for ethereal love songs of passion at their most extreme. Florence certainly suits the open air atmosphere and, wearing a free-flowing vintage dress, she struck a spectral figure on stage, opening with 'Drumming'.
The last year in the public eye has clearly pushed Florence as a performer. Though commanding last year, she has added theatricality in the last twelve months with her movements, expressions and poses providing an additional narrative to her songs.  'Rabbit Heart' and 'Dog Days' are still the cornerstones of the Florence and the Machine show, but it remains her cover of 'You've got the Love' that prompts the most euphoric reaction.
The success of the last year hasn't taken away Florence's childish glee at being on stage; she took cheap thrills from commanding the crowd to jump to her beckoning during 'Dog Days' and revelled in having them in the palm of her hand. It is hard to fault the overall package, her stage presence is undeniable and her interaction has improved, but the desire to move onwards to new material is starting to show through.
Although the crowd at Somerset House felt more at ease during the tracks they knew, one new song, 'Heavy in Your Arms' was particularly well-received and should be a crowd-pleaser following its release. The next twelve months are not necessarily going to be easy and will prove critical in the career of Florence Welch as the troublesome second album has been the undoing of many a next-big-thing. I for one hope to be blown away another time and see her performing such amazing venues for many years to come.
Words and Pictures: Chris Gent