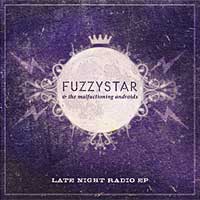 Listening to Fuzzystar will have you scratching your head trying to identify the many influences you hear. There's all sorts mixed in, from scratchy Lou Barlow all the way to the smoother sounds of Belle & Sebastian. And while we're not against bands wearing their influences on their sleeves, it can become a little too derirative and in this case the music doesn't stand up for itself.
Title track 'Late Night Radio' is a slow burner, not least because it takes so long to get going. Meanwhile, 'Mathematics' sounds so low-fi you wonder if it is actually finished. The closer 'Falling In Love' is the most polished of the tracks here, and the one that redeems the EP and actually makes you want to listen again.
It's too soon to write Fuzzystar off, but this debut EP still sounds too much like a set of demos than the finished product.