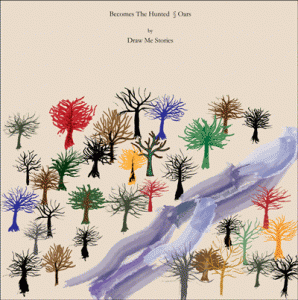 Draw Me Stories have a dark, foreboding, mood that infects their music. It's a quality they share with cult 90's emo pioneers Sunny Day Real Estate. It also makes for addictive listening.
Their new single contains the songs 'Becomes the Hunted' and 'Oars'. On 'Becomes the Hunted' they shift between spacey, shoegaze melodies and harder-edged moments that recall the coldest parts of Sunny Day Real Estate. 'Oars' combines the subtle dreaminess of Radioheads Ok Computer with the experimental passages that have decorated the finest moments of the Mars Voltas back catalogue. The vocals have the emotional dexterity and beautiful fragility of Wild Beasts, Jeff Buckley, and Jeremy Enigk.
This is not to say though that this is an exercise in moodiness alone. Elements of funk and jazz creep in to the songs, meaning that there are times when you want to dance as much as recline. A very enjoyable single from a band who's eclecticism, and musical proficiency, leaves you wondering whether this could be the beginning of something big.
Words: Damien Girling