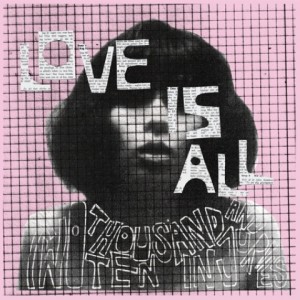 Here comes Two Thousand and Ten Injuries by Love Is All, bursting of joy, quirkiness and punk frenzy. Now look behind the curtain once more and you will find a much calculated and controlled strategic sound holding together those cluttered and ragged themes. And now listen to the lyrics by Josephine Olausson, when she yelps and bounces and flinches like a cat or cracks in cruel school-girl shrieks. FFS may not be the appropriate portal for a genre like this but it is for the sugary lines, the vulnerable moments of self-pity, the failure awareness and the realistic approach to romanticism.
Their album is produced in a tin. Fuzziness, rocketed beats, dirty white noise are main features on the background. Carnivalesque percussion and ethnic drums, boy-band harmonies, disco tunes, 1960s saxophones and twee melodies join in the foreground. 'The Birds were singing with all their might' is a superb sample of their unique style combining all the above. A semi-instrumental tune with guitars exhaling a metallic fine cling over frenetic drumbeats of tribal luxury, this is a fresh pop vision of The Cure's post-punk pieces. 'Bigger Blogger' and 'Repetition' pierce straight to the heart in honesty and catchy melodies and 'Early Warnings' is the closest to what the Yeah Yeah Yeahs could have been if they had eaten Ryvita and caviar for breakfast each day.
Two Thousand and Ten Injuries will get you thrilled, hooked and hoping to play once more in their perfectly ordered rabble of emotional intricacies.