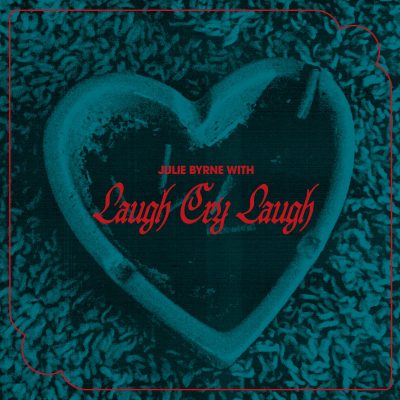 Following on from her latest album The Greater Wings, Julie Byrne is back with a new EP. And Laugh Cry Laugh is outstanding. One minute 57 seconds is not long enough for the opening track '22'. I listened over and over again and never wanted it to end, Bryne's beautiful haunting vocals washing over my soul in a hypnotic meditation. 
She healed my heart as she whispered, "you are worth all this fight". The poignant message I absorbed from this track is love. Love, love, love. Feeling love and telling someone how much you care for them and what they did for you in return by just being themself. She sings, "You were a legend already". This is something I say to my friends when they are in clouds of doubt about who they are and Byrne sums it up perfectly in just a few words.
The mesmerising synth supporting her voice feels like I am transported into the cosiest blanket just for me, a Hygge. It's beautiful, atmospheric, rising and falling, breathing through the track with an emotional gravity that is hard to ignore. Byrne is laying it all on the floor just gently asking you to pick it up and hear it – really hear it.
Byrne's songwriting never disappoints, with delicate tangibility and personal introspection, it has us all crying or grateful to be alive with every beat. The ghostly harmonies are warm and fill in the whole stereo field holding up Byrne's voice even stronger and more powerful than before. Byrne's vocal melody line rising up to gracefully fall, it has us hanging onto every single word.
Next Byrne covers one of my favourite songs, Nico's 'These Days', which was written by Jackson Browne. With her sleepy vocals, Byrne has really made it her own, stripping it back to acoustic guitar and vocals with a slower tempo, Byrne shines bright. From the first vocal slide I am transfixed on this version, her effortless finger picking and vocals dancing along each moment, making sure we can hear each word through her beautiful voice. The pacing of the guitar is really important, the simple pause after "for you" allowed me time to take a breath and consume the song and appreciate how beautiful it really is. She slowly builds in the chorus, "how all the change came about my way" and the introspectiveness that this song gives the listener is palpable. Every moment feels intentional and calculated, the raw emotion shining through. It is simple, polished and emotional.
'Velocity! What About The Inertia?!' is filled with magical nuance. The slow groove takes us into Julie Byrne's world, a slow burning romance filled with sensuality and hope for the future. The guitar tone is perfect, working hand in hand with the bass and drums unwrapping our inhibitions to remind us to enjoy moving our bodies, with the intentional vocal placement from Byrne guiding us through this psychedelic dream. "I love you always .. our names carved in the table", tells us exactly where we are in the song with her. I could feel the cosy bar, adorned with soft yellow lights and velvet. Or, feeling serendipity with someone from across the room in a main character moment from the silver screen. "Whatever happened to slow, slow dancing?" Byrne sings. It's a way to feel free, to find who we are and learn who we are as people.
This short EP ends with 'Entropy Increasing' – a journey through the senses. It starts with a heartbeat of aggregated synth before each instrument is added like a flock of birds flying past, it feels playful and fun. It swirls across your ear canals like liquid gold, with the harp adding a refreshing melody every time it is played. I felt like I was spreading out and felt optimistic about the future of my own life and those around me, because who knows what the future holds.