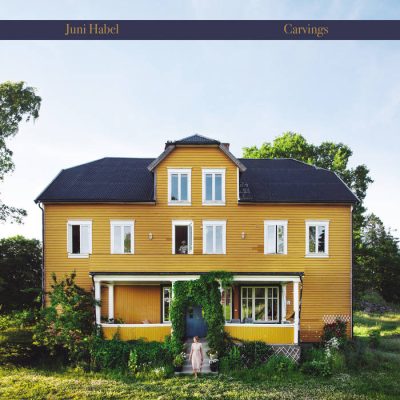 Delicate yet weighted with emotion, Juni Habel's new release Carvings is a moment of pure intimacy.  That is not surprising when you come to learn that this record's journey began in Habel's home; an old Norwegian school house in rural hinterland which she shares with her close-knit 'musical' family.
Recorded between the school classroom, hallway and her bedroom, with simple gear and vocals laid down in a single take, you can almost hear Carvings being etched in to life.  Throughout each track, the closeness of Habel's effortless vocals and hypnotic fingerpicked strings make you feel as if she is in the room with you; performing the gentlest of lullabies to warm you through long winter nights.
A heart-achingly beautiful album, but not always an easy listen. Her words often weigh heavy and deep, exploring life, death, beauty, tragedy – the personal shadows between darkness and light. Simple, lilting melodies are occasionally interjected by jarring instrumental interludes and unexpected tempo changes.
Opening track 'Rhythm of the Tides' is a perfect example of this. The song itself was inspired by a dream Habel once had that she was swimming in a black lake with her mother. "We both knew that the world would end the next morning – so we could take the beauty in for the very last time," Habel sings. Mesmerising with an almost dream-like quality, it's an exquisite track – a soundscape of velvet strings and choral backings holding Habel's lyrics afloat.
Another stand-out, 'Valiant', is a haunting and ethereal love note to Habel's late sister who tragically diedin a car accident when only a teenager. "Your kisses still wet on my cheek"… a final poignant goodbye which echoes long after the song has concluded.
Yet the album also offers moments of welcome relief in the form of singles 'Little Twirl' and 'Chicory'; where light-hearted, playful instrumentation and layered harmonies bring to mind nostalgic memories of childhood summer days' long gone.
The album's finale, 'I Carry You, My Love', is a rippling river of emotion. Sung in two-part harmony throughout, it feels almost an ode to her late sister. It's the perfect sadness to end Habel's journey into family, loss, grief and love. "Grieving is hard work – like lifting stones – but you're drawn to make something beautiful in honor of the dead – something lasting." In Carvings, Habel has managed to achieve just that- something truly beautiful. There is often unexpected beauty in darkness after all.