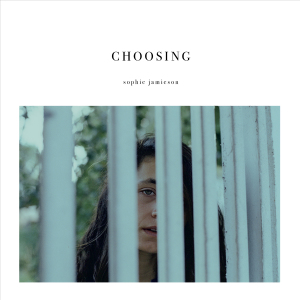 Late November, and there's a week to go until Sophie Jamieson releases her debut album. She shares a post on her Instagram. It is both an advert for the record, and a note of the sense of unease that comes from releasing something that takes your deepest insecurities, your greatest flaws, and puts them on display for anyone to listen to.
"It's not a comfortable feeling," she says, "seeing some of these songs being heard, even if they connect. The sensation of nakedness, exposure, and the necessity to disconnect from the subject matter and anyone's response or opinion of it has become very real."
This is the trouble with confessional pop music. Your audience has a sense they know you intimately when, more often than not, they've never made it closer than the barrier at the front of the stage. Your critics, too, speak with authority about the open wounds found within your lyrics. More often than not, what we're hearing as listeners says little about the musician, and instead reflects our own experiences and emotions back on each song. An artist like Sophie Jamieson lays herself bare in her lyrics, and then watches as we all make it wholly about ourselves.
I gave Sophie Jamieson her first record deal roughly a decade ago. Actually, that isn't strictly true. It wasn't much of a deal, for a start – just a little support for her debut EP, Where, and my record label's name – Folkroom Records – to put at the top of promotional emails. Also the record label isn't mine, it's ours; the other half of the team being the fantastic Ben Walker. He was to produce the EP, I was to promote it. Also, I then promptly had something of a nervous breakdown, and Sophie's EP got a fraction of the support it deserved.
It's hard to keep great music down though. Sophie's songs picked up fans wherever they were played, sales were steady, and in time a more established indie record label came along to sweep her up and offer her a platform for bigger and better things. They released a double A-side, and another single after that, and then… nothing. Sophie Jamieson, one of the most talented singer-songwriters I'd ever seen, announced her retirement from music, threw one last hurrah – a sold out gig at The Lexington in London – and disappeared almost altogether.
You can read a lot about what happened in the five years that followed. Early reviews for the new album draw heavily on the buzzwords that sell an easy story of someone falling into a proverbial pit and pulling themselves back out again. Kurt Vonnegut used to lecture on the 'shape of stories', and that is one of the oldest and most popular shapes we have. Enthralling, and ultimately satisfying. She almost lost it all, but she triumphed in the end.
The debut album that finally makes it to us – nine years after we released the Where EP, seven years after her retirement gig – isn't about what happens in the pit. It's about why we find ourselves there in the first place. It's about why we decide to drag ourselves back, painfully, to the surface. It's all there in the title. Choosing.
The album opens in one of those dark places. 'What did I do last night?' she asks on 'Addition'. The easy answer is that she drank too much. The harder answer is that she risked losing herself. Before the drums crash in, the guitar bounces off the walls, we hear the vocals of someone coming to terms with where they are. Afterwards the drums recede, the guitar settles, and there is a glimmer of determination. 'Don't let it edit me/more than the sum of the booze in my blood' she sings. Choosing is an album that is as understated in its lyrics as it is in production – but from the outset the listener can see the choices being made, and can see the hope that lies beyond the darkness.
It's strange to listen to Sophie now, when for much of my adult life the songs I've had on occasional rotation in my head are those off her first EP. They don't make appearances in her live sets anymore. They belong to a different moment in time. Not because they aren't good – they are never anything less than stunning – but because they sit on the other side of the choices that have been made since. And the music released since Sophie re-emerged is something different too. Her first tentative steps were timed perfectly to coincide with a global pandemic (another sold-out gig in February 2020 both launched her back into the music world, and proved to be the last live music I saw for over a year). Two EPs gave a glimpse of what she still had to offer audiences but they, too, don't fully prepare you for this album.
In collaboration with producer Steph Marziano, Sophie has realised an album that feels minimalistic and unshowy, but is capable of overwhelming with little surprises. Early singles 'Sink' and 'Runner' are sublime showcases for the record, the former with a simple piano motif as unexpectedly heartbreaking as the refrain in Sufjan Stevens' 'Should Have Known Better', the latter with a soaring finale of high tensions and belated release.
Perhaps the biggest highlight of all is the gorgeous 'Empties', which is as restrained as any musician could hope to be. Why throw everything into the mix when you can whittle a song down to two and a half perfect minutes, most of which is taken up by an absolute earworm of a melody. Few will hear this album and not find themselves standing in the kitchen late that night repeating 'You better not leave me standing in my empties'.
I recently met someone at a Sophie Jamieson gig who had first discovered her during that five year retirement-turned-hiatus. He spoke of being stunned by Sophie's music, and going out of his way to track down everything he could by someone who, at that moment in time, seemed likely to be one of the cautionary tales of great lost talents. I know he wasn't alone in his discovery – even as those Sophie-less years trudged by, people never stopped listening to her earliest music. In fact, each month her following seemed to grow a little more. She wasn't even doing anything – or she was, but it was nothing she would want to share with them. Her Where EP remains Folkroom's best performing release almost a decade on.
Now, finally, Sophie offers up an album that in many ways fills this gap. These songs were recorded two years ago, and the earliest amongst them written in the second half of her break from music. The decisions Sophie is singing of have long since passed and, thankfully, seem to have led her to a much better place. Choosing is released on Bella Union, making her labelmates with the likes of Fleet Foxes, Ezra Furman, and fellow purveyor of brutally honest introspection, John Grant. It's a hell of a comeback from giving up on music altogether. If only all stories took this shape.
On album closer 'Long Play', Sophie reflects on another bruising night of drinking, and once again finds hope in a future where she has chosen better for herself. 'You're a woman, and you're only on side A / You've still got the whole long play to twist'. If that's the case, it feels now as if the record has been flipped. I can't help but feel she's going to blow us away with whatever she's keeping back for side B.