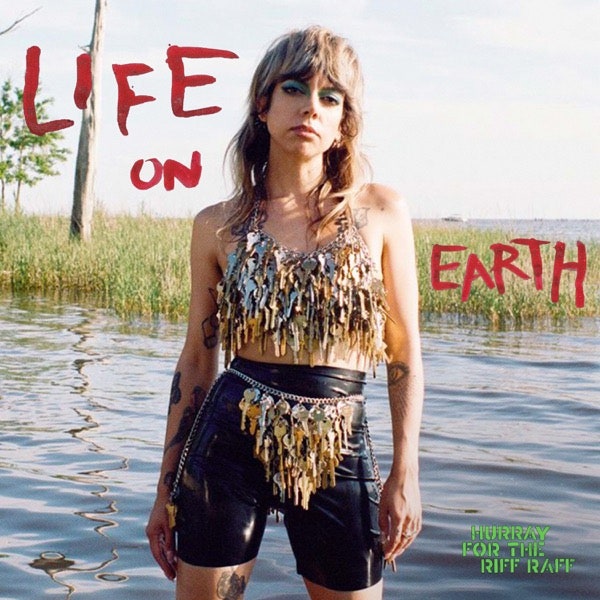 2022 promises to bring a host of new beginnings as the world emerges from two years under the pandemic's thumb. The world is a very different place from the one that was present last time Alynda Segarra's band Hurray for the Riff Raff released an album, 2017's The Navigator. This proved to be the last under the guidance of ATO Records. Subsequent years have seen them sign to Nonesuch Records. Life on Earth is the result of these changes, 11 songs celebrating and a world in flux.
Those who are familiar with Segarra's earlier folk inflected albums will be surprised by the attack on the senses that Life on Earth provides, though less so if they were listening carefully to The Navigator. The signs that change and reinvention were there for all to see, albeit on the horizon. Synths permeate the melodies throughout this collection, as does Segarra's piercing vocal delivery. "It's not safe at home anymore" they cry out on opener 'Wolves' before instructing the listener that they "know how to run!"
Life on Earth is as much about rebirth than reinvention. On leading single 'Rhododendron', Segarra half spits the lyrics, bringing to mind Dylan in the 60s. "Don't turn your back on the mainland" stings the refrain, a call to arms. If The Navigator wrestled with matters of their Puerto Rican heritage and making the transition, Life on Earth does similar with weightier issues. How to survive and thrive as a human being. On 'Jupiter's Dance', we are as far away from the sound once created on their version of Gillian Welch's 'Ruination Day' as it's possible to be. Echoey piano, drum beats and thumping bass frame and surround Segarra's vocal as they sing "I held on to only you, can't start a fire without my heart".
"Trying to avoid running into my ex on Broadway" begins 'Pierced Arrows', the most popish and instant song on the album but listen carefully and the message runs deeper than that of a love scorned and banished, going on to tell the listener that "I'm not afraid to cry" despite "this was the place that fell apart, you were the one to break it". To an electronic backbeat, it's one of the many songs that should carry this album high on to the Best of the Year lists by the time December rolls around.
Life on Earth is not an easy listen but it's a vital one. The reinvention has worked a trick. Segarra has lifted the songwriting to a higher level. It's a level that few will match this year.