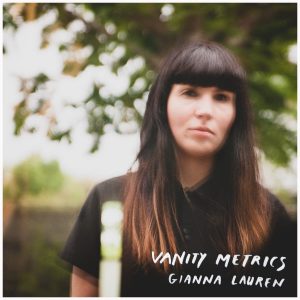 On her fourth release, Canadian singer-songwriter Gianna Lauren brings raw honesty and fragile volatility, looking at the data-driven reality where music like every piece of content is measured by numbers of streams and likes. The newest EP Vanity Metrics was recorded in just four days, immediately after Lauren and her band's two-week tour. The result is the collection of five moody songs fulfilled with the spirit of collaboration and a touch of the fog of Nova Scotia's shores. 
The art-rock sound of the record was also influenced by the playlist that accompanied Gianna Lauren at the time. Weyes Blood, Big Thief, or Mitski were not missing. Especially the echoes of the latter artist is heard with the familiar fragility and roughness.
The opener 'Spark' was written in the night session during the recording of the EP. Diving deep through fuzzy and gloomy 90s vibe, Lauren poignantly tells a story of unrequited love: "Before I die I wanna tell you I love you / But while I'm alive / I'm gonna hide". 'Whoa' brings this brilliant combination similar to find in another Canadian native, Aidan Knight on his LP Each Other – velvet vocals, dreamy guitar & synth duo, and brass section – all in comfy harmony.
The lead single from this record, 'Closed Chapter', is quite claustrophobic in the lyrical layer. Lauren sings "It's the same old story that I can't tell" trying to leave the endless circle, but is also a catchy rock song with crispy guitar, pulsing percussion, and graceful horns. All band members complement each other very well. As well on the next song, calmer and folk 'Innocent tourist'.  As we can read on Lauren's Bandcamp about the genesis of the Vanity Metrics – "much of the album was recorded live off the floor, capturing an electricity fuelled by collaboration (and a touch of exhaustion)". Indeed, you can hear this kind of electricity. 
The album ends with 'Disappear', the song which sounds like a lonely walk in the rain. It becomes more and more blurred with each step.
Vanity Metrics isn't a joyful, cheer-me-up type of album, but it brings a touch of comfort, this kind of understanding, when tired of fighting with bitter feelings and ruthless algorithms we tend to seek art and human connections, incessantly.