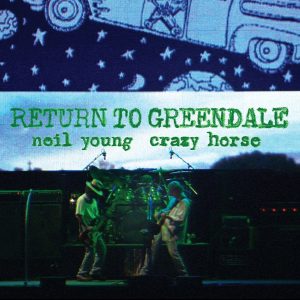 After years of delays to the Archives project, it seems lockdown has provided Young with the time to get things moving at such a pace its becoming difficult to keep up. Barely a month is going by without a release from restless 74-year-old at the moment. Less than two months after The Times EP and a few weeks before the hugely anticipated Archives Vol. 2 (not to mention the upcoming 50th anniversary reissue of After The Gold Rush), he's once again gone back into the vault of live performances to bring us Return To Greendale. A live show from 2003 of Young performing Greendale in full with Crazy Horse – the set is accompanied by a film of the show in which the concept album was acted out on stage theatrically while the band played in front and screens showed cuts from Greendale The Movie. This is, in a pretty literal sense, rock opera.
It would be fair to say Greendale – in which Young explored his growing concerns for the environment via the means of a suite of songs set in a fictional seaside Californian town – was marmite at the time of its release. Young's 25th studio album was toured extensively before coming out, but a lot of fans were left clamouring for the hits rather than trying to absorb a sprawling concept album. With the passage of time, the record has earned a number of reappraisals, not least as the issues it tackles grow in prominence. Greendale was an ambitious vision – it even came with a graphic novel – fully realised. On stage, Young delivers the performance with passion, backed by that trademark Crazy Horse groove – an infectious combination which sustains the set for its full 90 minutes.
Young is releasing and re-releasing music at such a rate right now that even the most committed fans might need to start being selective. Lined up against After The Gold Rush and an Archives volume focusing on arguably the most productive spell of his songwriting career, Return To Greendale might not figure at the top of too many wish lists, but this is a set that proves that – whatever his critics at time thought – Young was most definitely on to something. The message of the record is no less urgent today than it was in 2003, and it proves well worth the return trip.