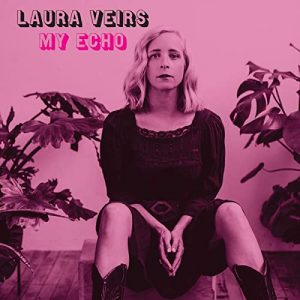 "My songs knew I was getting divorced before I did"- Laura Veirs
When Laura Veirs started putting pen to paper and forming the ideas behind what would form My Echo, her 11th studio album, she realised that her 19-year marriage was coming to an end. She says that she saw it in her words before it had fully cemented in herself. The songwriter, one of the finest in the world today, has turned what could have been a miserable affair into a reflective one. So while it does explore the endings and mournings, it also compares it to our place in the natural world. Veirs is a former geology student, so this should come as little surprise. My Echo is an album that is constantly asking questions and coming up with freshly approached answers.
The fact that her ex-husband Tucker Martine also produces the record, as well as playing on it, could have made this awkward. The truth is, though, that they've worked together so much over the years, their natural chemistry is automatic. Martine knows how to present these songs like nobody else bar Veirs herself would be able to. They are ably supported on this album by the likes of Jim James, Bill Frisell and Matt Ward. No record is going to fail with a line-up such as this.
Many of these songs were born out of Veirs being part of a secret poetry group, which met monthly for a year and exchanged ideas.
"Dr. Jekyll, Mr. Hyde, oh I felt so crazy inside, brewing on the bed the worst version of myself" she sings on 'Turquoise Walls', one of the most stark expressions of a vanished love and lover. It's on the simpler songs on the album, wearing its emotion starkly. The Portland resident is a natural diarist and the lyrics are presented plainly but honestly. The album ends with 'Vapor Trails', as our narrator watches the planes fly past her window, wondering where they're going and what the future will hold. She is joined in this duet by American indie royalty in the shape of Karl Blau. They sing us off into the distance to find our own futures.
"It's an album about disintegration. It reveals my artist's intuition at work" she has said in an recent press interview. As we creep slowly towards the end of this tortuous year, a few album of the year lists may have to budge up and make room for this stellar effort.