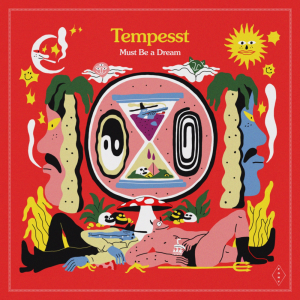 Listening to Tempesst's debut LP is like traveling by cool old van through the inner surreal landscapes, passing by cosmic canyons, giant flowers, sunsets on the beach, and mushroom clouds. There a lot going on around and you don't know which way it'll be going to turn next, but it's exciting.
The band history started more than a decade ago in Noosa, Australia with its core – twin brothers Toma and Andy Banjanin. The first steps they made in the church band. And in the late 2000s, they traveled to New York, developing music craft and starting home recordings. After moving to the UK Toma and Andy met guitarist Eris Weber and reconnected with old Australian friends – Kane Reynolds and Blake Misipeka. Tempesst was born for good. 
The London-based quintet debuted in 2015 with a sunny psych-pop single 'Too Slow'. In 2017 the first EP Adult Wonderland saw the light of the day and a year later the another – Doomsday. The latest record and the first LP in their career Must Be A Dream released in their own label Pony Recordings, is a result of four years of work and years of music preparations.
Ten catchy and sun-kissed songs shroud greater complexity beneath. They explore themes such as passing the time, love, loss, friendship, abuse, or superficiality of the modern social media world. Tempesst plays it all powerful with steadfast grace, inviting you to join their hypnotizing dance. From the start with 'Better Than the Devil,' it heard they passed exams from the 60s and 70s psych-rock on the five-plus. Melodically wailing guitars and blissful backing vocals on the title track make you want to dive deep into this sound. After bursting and rushing 'High On My Own', comes the ballad 'Mushroom Cloud' with slowly growing, from Banjanin's deep baritone who sings about break-up and destruction to the climax with saxophone solo.
Foggy electronics meet the sunshine of surf rock. It's hard to resist those smoothy liquid melodies in 'Walking on the Water'. Settled in the middle of the record, 'On the Run' is an excellent piece of psych-pop recalling the echos of Tame Impala and Spiritualized, both dynamic and bringing the feelings of tension and nostalgia. The nonchalant and woozy 'Age of Bored', the track could be envied by Kasabian. 'With a Woman' beautifully blossoms, highlighted by heavenly guitar riffs. 'Is This All That There Is', I bet the fans of early Arctic Monkeys would like it. 
Must Be A Dream brings modern psychedelia at its finest in a stylish retro outfit. In every song the old meets the new. The band skillfully mixes soundscapes where you can hear Beach Boys, Midlake, or Flaming Lips inspirations with indie rock, and folk, showing his own eclectic style. Tempesst's first LP is multi-layered, brazenly hit, and refined from start to finish record. Thirty-seven minutes and twenty-two seconds of fantastic music trip.