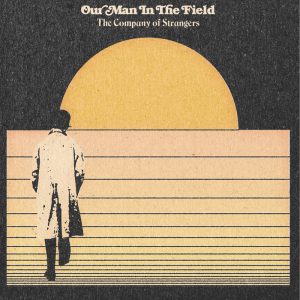 Alexander Ellis, the man armed with a scorched guitar and a notebook full of troubled words and troubadours, is the man behind the Our Man In The Field monicker. This is a debut album that I'm so happy to have in my life, because I know it's just the beginning of a relationship with a songwriter whose talent will only be honed from here.
It's the last perfect album of a summer none of us will ever forget and is full of echoes of the likes of Neil Young and Wilco. Nobody should make the mistake of thinking that Ellis is a mere pastiche of what's come before. His songwriting feels chiseled from the rock face of his experiences.
The album begins with the second single to be released from the set, 'Thin (I Used To Be Bulletproof)', a song that speaks to the listener about "I used to be bulletproof/nothing would ever get through". Like so many of his songs, he allows us into his world just enough that we can read our own lives in the reflections of the stories told.
There's plenty of Americana and pedal steel (provided by Henry Senior) laced throughout and it reminds me the most of the first time I heard 'Trouble' by Ray LaMontagne many moons ago. Songs that tell of a weary innocence, of eyes being opened, bridges being burned, nightcaps sunk and lessons learnt.
The press release states that the eleven tracks on The Company of Strangers represent "modern words to a vintage soundtrack" and I couldn't put it better myself. My favourite tracks (though this is forever changing) include 'It Is What It Is', lead single 'It Was Ever So' and 'Pockets'. He even channels the ghost of Big Pink with the closer 'I Like You So I Kill You Last' as the album ends on a bruised and beautiful note.
"There's a cautionary tale/I heard many times" Ellis croons and whispers on 'Swansong (Don't Play With Matches)' but you shouldn't approach this album with any caution at all. Take the leap today. The world is a better place for this album existing and you now have the perfect soundtrack to see in the darker evenings with.