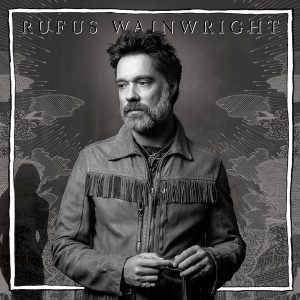 The world works in mysterious ways. Despite not releasing a studio album since 2012's Out of the Game, Rufus Wainwright has hardly been work-shy. His involvement in writing and producing two pieces of operatic work, alongside reciting and performing Shakespeare Sonnet's has kept Wainwright busy and in the public consciousness. This looked set to continue into 2020 with the April release of his 9th studio album, Unfollow the Rules, followed by a world tour, at least until the global pandemic of Covid-19 struck, pushing the release of the record back to July and the postponement of tour dates until 2021. For the first time in a long time, Rufus Wainwright has the opportunity to take stock; a message that appears throughout Unfollow the Rules.
Lyrically, the record finds Rufus in typical acerbic form, seen especially on the slow doo-wop of 'You Ain't Big, a tongue in cheek look at how the musical tastes of America differ; "You Ain't Big unless you're big in Alabama/Don't know who you are unless you've made it in Witchita…"Elsewhere, tracks like 'Peaceful Afternoon', written about his relationship with his partner, Jorn Weisbrodt, and 'Only the People that Love' are arranged to showcase the very best of Wainwright-his piano playing and the lilt of his voice. There is also time to cast an arched eyebrow to his fanbase who follow Rufus around on tour, making and gifting presents to him perhaps a bit too eagerly 'Here's to the Ladies (That Lunge)'.
Broken up into three Acts, the record sees Wainwright travel from troublesome waters, to love and acceptance, ending with 'Alone Time'. In a world which has forced people to take stock, and step back from the rigorous demands of modern life, Unfollow the Rules provides a much welcome musical aid. As Shakespeare once wrote, 'This too shall pass', and in the future Wainwright will be back on stage taking adulation from the audience, especially those ladies who lunge. For now, we can try and find the time to properly enjoy this record. Invest the time and unfollow the rules.