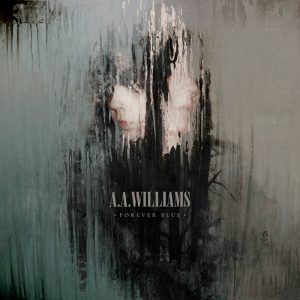 Forever Blue is the debut full length from a musician who has really hit the ground running. A.A. Williams sold out a headline show at the Southbank Centre within her first year of performing. Turning heads from the very beginning, she had already worked with Japanese post-rock band MONO before she was signed, and headed out on tour with atmospheric metal group Cult of Luna last year. Now Forever Blue will open up her work to an even wider audience.
Her blend of neo-classical, doom folk, post-rock and post-classical is immediately haunting and gut-wrenching on opener 'All I Asked For (Was To End It All)', a sombre dirge which builds almost without noticing into a climactic outpouring of emotion.
'Melt' is where we begin to see some growth in this artist, moving away from the more stripped-back arrangements from her previous releases in favour of a fully-formed post-rock odyssey of lamentations and soaring string arrangements. Never has being sad sounded so euphoric, and never has Williams' vocals sounded more at home than in the middle of this luscious arrangement.
'Fearless' is an album standout, purely because the line between gentle and earnestly evocative and absolute brutalistic grief-filled expunge is straddled so well. The unclean vocals are a welcome addition to Williams' already varyingly textured sound and this song as a whole is one of the strongest in her arsenal of incredibly compelling music. Closer 'I'm Fine' is an absolutely heart-wrenching ballad, to be listened to whilst watching raindrops run down your window. "I'm sorry… I can't decide if I'm lonely… But I will always try to find a place with you," sings Williams in her gorgeously full voice, with vibrato in all the right places.
The support slots A.A. Williams has racked up over the years – with aforementioned Cult of Luna, post-rock legends Russian Circles – these all place her within a solid heritage of dark and atmospheric music eschewing the kind of traditional structures one might find in a regular rock band. Amongst this crowd, you have some of the most accomplished storytellers in the rock and metal worlds – Emma Ruth Rundle and Chelsea Wolfe at the forefront of that. These are huge shoes to fill, and intimidating giants amongst which to stand. Yet Williams' tender tones and ever-intriguing arrangements allow her to begin to make a name for herself even amongst these huge and impressive acts, something which is a joy to see her having done so far, and something which hopefully we will see her continue to do for many years to come.