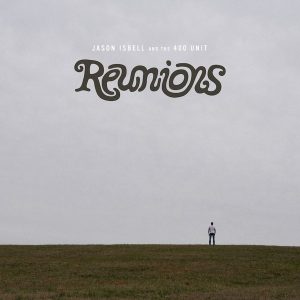 "Thought I was alone in the world, until my memories gathered round me in the night" Jason Isbell sings on 'What I've Done to Help', the opening track to Reunions. The rolling chorus repeated like a mantra towards the end, backed with keening guitar and harmonies from David Crosby is a plea for help. The is followed by 'Dreamsicle', a song about the freedom of childhood, whilst being exposed to the experience of warring parents and manages to balance the two perfectly.
"Heaven's wasted on the dead/That's what your mama said". 'Only Children' is where the emotional stuff really starts to hit. A bruising and beautiful ballad, backed with vocals from wife Amanda Shires, the song explores the relationship between the narrator and a friend who shared his love of writing but died unexpectedly. It's the equal to the likes of 'Flagship' and 'Elephant', showing that Isbell is a songwriter with few peers when it comes to getting tackling tough subjects head on with heart and empathy.
'Overseas' sees a gear shift, with the return of the full band, and almost Knopfleresque guitars ringing in the change of pace. A song of lost love, and a girl who has is now living abroad while her one-time lover sits in a hotel reminiscing of what might have been. It mentions how family has to come first and even brings up their daughter, giving the song an extra edge.
There are a couple of palate cleansers in the middle of the album in the shape of 'Running with Our Eyes Closed' and 'River', but this isn't trying to lessen how good they are. They sit perfectly in the heart of this emotional journey, but Isbell makes knocking off these kind of country rock songs look easy, a lot easier than they are.
'Be Afraid', the lead single, takes a similar theme of 'Hope the High Road' from previous album, 2017's The Nashville Sound, asking for bravery and leadership who have a voice and the power to help those less fortunate than themselves. He even acknowledges how hard this can be, but implores them to do so anyway.
Isbell wrote 'St. Peter's Autograph' for Shires, after the death of her friend Neal Casal. It's a simple song of love, heart and humanity and is all the better for its minimal delivery. "Share your best remember whens/If he comes round here again".
'It Gets Easier' tackles Isbell's road to sobriety head on. Isbell has been clear of drink for eight years now, but understands that it's an ongoing and lifelong battle. "It gets easier, but it never gets easy" he hollers at the beginning of the chorus. The closing track is 'Letting You Go', about parenthood the imagined wedding of their daughter and how scary it is to watch their daughter grow into their own person.
You could write a whole thesis on the lyrical themes of this album, and comparisons to easy to make and hard to live up to, but there is a touch of the Springsteen to Isbell's writing, more so by the album. As it's been said before, all these songs have melancholia in their DNA, but these offer acknowledgement of the past whilst looking towards a more hopeful future. Let this album be part of your future. You'll be better for it.