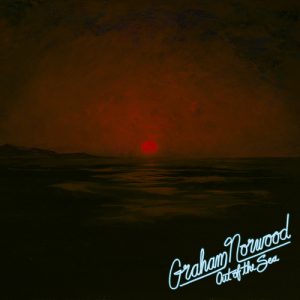 Out of the Sea is the debut album from singer-songwriter Graham Norwood. Despite its being his first release, Graham is clearly a very experienced and observant musician. From beginning to end Graham displays the diversity of songwriting and composition of which he's capable, with his clear, clean vocals maintain a consistent throughline. More than just consistent, Norwood's voice really shines on this record. The melodies, range, and tones he traverses are absolutely top tier. There's plenty about Out of the Sea that's interesting, but I don't want to understate how quality the vocals are throughout this album.

The opener 'Hard Times' utilises the full country/folk instrumentation, filled out with organ and a prominent slide guitar. Norwood's tenor crooning is pure and pleasant, and if the album continued in this fashion it would be a winner, but Out of the Sea is full of different colours. 'Greenfield' invites comparisons to Elliott Smith, with its simple acoustic arrangement, and doubled vocals. On 'Lazarus Avenue', Norwood shows off his vocal range, as he stretches to Steve Perry heights at the climax of the song. On the other end of the dynamic spectrum, closer 'Out on the Shore' displays a delicate falsetto, and with its cavernous reverb is reminiscent of haunting Radiohead tracks like 'Climbing up the Walls' or 'How to Disappear Completely'.

The stand-out tracks on the record are 'Collapses to Zero' and 'It'll Never Happen Again', which have a more tranquil feel despite seemingly darker lyrical content. Regarding said lyrics, the line "everything rises, converges, collides, and combines, and collapses to zero" made me smile. It's not for any reason of meaning, because to be honest I'm not sure what he's talking about. I just enjoy when a songwriter uses uncommon imagery, and avoids tired phrases. No rigorous analysis is possible with just a few listens (and sans lyric sheet), but I'm confident there's lots of lyrical depth to plunge for those so inclined. 'It'll Never Happen Again' boasts the only (if memory serves) guitar solo on the record, and I'm glad Norwood held back for just the one. The lyrical, acoustic melody is perfectly placed in the song, and on the record. It creates a satisfying moment, like emerging into a glade near the end of a hike.

I'm not saying a broad range of feels is necessary for a good record. Attempting to reach too far can often yield a trainwreck, but with Out of the Sea Graham Norwood hit the target. There's a full palette of sound and colour, and gorgeous Jeff Buckley-esque vocals floating all around on top of it. Graham Norwood sounds like a seasoned pro, and with Out of the Sea has created a thoroughly beautiful record.