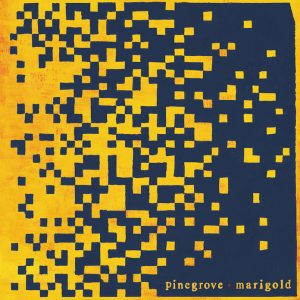 I've always rolled my eyes a bit at Pinegrove's designation as a country/emo band. Emo has become a catchall (like "alternative" in the 90s), and it always seemed to me that attaching this to Pinegrove was more a function of the scene in which they circulated than any particular musical traits of their songs. However, with their third studio album Marigold this description makes more sense. This is an album full of beautiful, traditional-styled melodies, reminiscent of folk/country/americana, blended perfectly with the kind of sparkling, chimey guitar lines that are the hallmark of modern emo. The resulting combination is immensely satisfying, even warming. I realise that much of Pinegrove's fanbase has an emotional attachment to "Cardinal," and yes that is a superb record, but I am comfortable saying that this is their strongest release yet.
There are numerous standout tracks and moments on Marigold. The genre blend is most clearly expressed on the first song 'Dotted Lines'. It's a mid-tempo groove with a pleasant chorus, lush with harmonies (like most of the choruses on this record), and buttressed by a glistening guitar riff. 'The Alarmist' is a more direct nod to Americana, featuring a short, juicy guitar solo that could belong in a Ryan Adams or Jason Isbell tune.
'No Drugs' is a mostly acoustic folk song. The chord progression descends as singer Evan Hall lyrically commits (or laments) to a day of sobriety, singing "No drugs and alcohol today. I wanna remember everything we talk about." Hall's voice is subtle and smooth, yet has just enough little cracks and screeches to carry a lot of pathos. His unique voice has always been one of Pinegrove's biggest strengths, and this record portrays that more than ever.
The album reaches its emotional zenith on track eight with 'Endless', which is my early favourite (I've already found myself singing it throughout the day). It's a fairly simple, straightforward song – mid-tempo and mid-dynamics. The melody rises through the verse and culminates in an anthemic repeat of "It's Endless, Endless" in the chorus. It's one of those powerful choruses that makes the hair on your arms stand up when it arrives. I'm already anticipating singing along with the rest of the audience the next time I see Pinegrove live, and I would not be surprised if this became their closing song for a while.
I could gush about most of the album: the syncopated rhythm in 'Moments', the pleasant sing-songiness of country ballad 'Neighbor', or the strength of Hall's lyrics, which are consistently unique, and replete with interesting imagery. Perhaps the biggest compliment I could give it is that there are no weak songs. Even the title track 'Marigold', a meditative instrumental that ends the album, is a satisfying fit. For long time fans or those previously unfamiliar with Pinegrove this is a top notch record. Buy it, add it to your playlists, and be prepared to croon along next time they're in your neighbourhood.