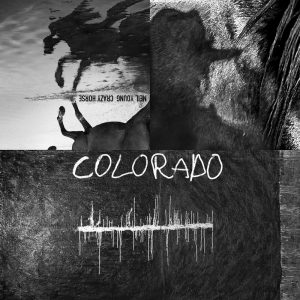 For his 41st (not counting those unreleased treasures constantly teased but not yet heard) studio album, Neil Young headed to the Studio In The Clouds, almost two miles above sea level in the Colorado Rockies. You know that if Young and Crazy Horse are gathered together in the Centennial State the passing weather systems are not the only clouds in question, but while Young admitted he is keen to ensure no weed goes to "waste", Colorado is a strikingly clear-headed record.
These songs poured out of Young, ruminations on life, the passing of time, but most urgently of all his fears around envrionmental change. This, of course, is nothing new for Young, who sang of mother nature being on the run on 1970's After The Gold Rush, but it is a theme which seems more and more vital with each passing moment.
Young has experienced what he fears to be the coming devastation first-hand himself. His recent relocation to Colorado came after Californian wildfires reduced his Malibu home to ashes, and the anger is palpable as he targets "old white guys trying to kill mother nature" on 'She Showed Me Love', the 13-minute long stomper which, after opener 'Think of Me', gets this record moving. It wasn't meant to be 13 minutes long, of course, but Young and Crazy Horse found themselves working a groove and stuck with it. They figured they could edit the track later but, listening back, found nowhere they wanted to cut it short.
So it is listening to Young work with Crazy Horse, a band which has loyally come back to him time and again since their first collaboration on Everybody Knows This Is Nowhere some 50 years ago.
This may be their first record together since 2012's Psychedelic Pill but it is an easy groove to fall into. As ever, the playing is loose, the music felt rather than perfected and prone to rambling at times, but this is how Young works – both musically and lyrically.
The trademark sound of the Horse is unmistakable, even if they arrived in Colorado minus a couple of key players. Nils Lofgren stands in for Frank 'Poncho' Sampredo, sidelined by arthritis, on rhythm guitar, while the absence of the late Ben Keith on pedal steel can be felt.
Indeed, 'Olden Days' sees Young bid farewell to a number of old friends, those that have passed on or, as he sings, "disappeared somehow" along the way. The death this summer of Young's long-time manager Elliot Roberts is said to have shaken Young, who may be feeling his own mortality ever more keenly.
But, as he approaches his 74th birthday next month, the message of this record is that Young himself isn't going anywhere just yet.