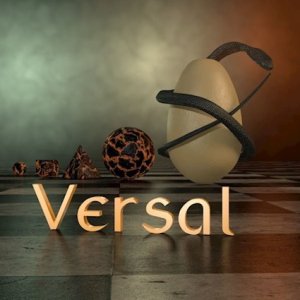 From the beginning, Javier Velez was a musical prodigy capable of perfect pitch. He'd first showcased his extraordinary, innate talents to his parents before he could even speak while humming along to his favorite cartoon theme songs, and they knew they had something special on their hands straight out of the gate. Fostering that natural gift, Velez had mastered six instruments by the age of 17, and three more with a further passage of time. All of this had gone into his eventually taking on the Versal signature and adding his own idiosyncratic stamp to the world of New Age composition, skating somewhere between the organic realms of classical and folk and something more synthetic.
As much can be heard in the syncopated melodies pervading his sleeper hit, 'Carrousel', that sits snugly and proudly at the center of his self-titled debut EP. In many ways, 'Carrousel' defines Velez's Versal persona, skirting the edges of computerized and natural instrumentation as they mesh into something alien, yet warmly familiar. The album's remaining five tracks follow similar suits, but in wildly unique ways. 'Eternal' is more classically-oriented, for instance, and recalls the heartful compositions of one Joe Hisaishi. He verges into Yanni-esque territory with 'Flamenco en Culebra' and delves into a majesty that wouldn't be unfit in an RPG this side of 'Dawn' and 'All Together'. All of this is stapled together cleanly by the regal mysticism of 'El Camino a Montserrat' to close up proceedings.
Incorporating elements of several genres into his compositions to develop something truly genreless, Velez thrives as Versal throughout the project's debut recordings. There is a special something that pulses through each composition that can't quite be pegged down by one direction taken or another, instead blending into something all at once brand-new and stirring.
Words by: Jonathan Frahm (@jfrahm_)