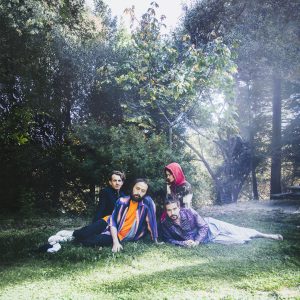 Set up by last year's solo album by Adrianne Lenker, from where U.F.O.F. takes a couple of tracks, the new Big Thief album is "state-of-the-art" contemporary Americana.
The spare experience of abysskiss, a fully accomplished record, is transferred to the most Kozelek-like work by the band. Big Thief are now farther away from the alt-Americana of Wilco (if not for the distracted confidentiality of 'Century' and for the adventurous chooglin' of 'Strange') and very much closer to the music of Ohio's bard.
Along his whole career, from the desperate, gloomy arpeggios in Red House Painters-style in 'Open Desert' to the dazzling Midwest skies of 'Cattails', remindful of 'Ghosts of the Great Highway'. Sometimes they even arrange completely slowcore numbers, as in 'Jenni'.
Everything is focused on Adrianne's interpretation and songwriting, who is an atypical frontwoman with her fragile, but extremely versatile voice: sometimes she sings on masculine octaves ('Betsy'), sometimes she gives way to a gentle country vibrato, as in 'Orange'. The counterpart of this is an extreme emotional versatility in her vocal expressiveness, which makes her one of the most characterful singers around.

On the other side, the arrangements are always measured, one could say "concise". They never go near the long jams in the last The Amazing's album. Even the tracks from abysskiss go under a radical treatment, but this is not the intent of the band. Somehow arrangements are always there and they're not, like a friend who knows when to get noticed.
This is in a sense the best possible combination with Lenker's intimate confessions, dedicated to an imaginary "UFO friend", and filled with oblique references and rich images.

In general, this is not an immediate album, being based on quite frail, but substantial melodic ideas, but it will be a point of reference for a long time for contemporary Americana.
Words: Lorenzo Righetto