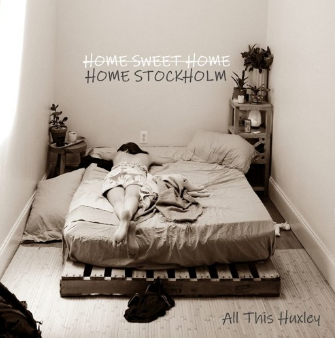 From the opening moments of the titular 'Stockholm's' jawan brood, it's easy to establish that All This Huxley present a form of raw indie presence perhaps last seen in as unvarnished a form when Wilco first hit the scene 25 years ago. Technically alt. rock but verging in directions relative to folk, punk, and blues alike, these genre-bending savants blur lines in pre-established musical norms with their sound in a way that would only sooner be replicated by the names that they present in the 'Band Members' section on their Facebook page.
A follow-up to their titular 2017 endeavor, Home, Stockholm further expands upon the band's chameleonesque rock as it verges into more darkly locales. In a move taken from Ben Folds' playbook circa Rockin' the Suburbs, the band crafts a sequel to their lead-driven 'Comrade Winston Smith' in the aptly-named 'Comrade II'. The atmosphere that they paint is visceral, here, especially in the distant whistling and layers of colorful electric guitar riffs. It's probably the most deliberately folkish they become here, too, with a vocal deliverance not unakin to early Neil Young.
They lean harder on the blues with the mid-tempo slammer, 'Dunkirk', another searing guitar solo in-tow, before vibing into a place between the likes Elliott Smith and Monoral with the understatedly off-kilter vibes of 'One of These Things'. Leave it to All This Huxley, of course, to wrap things up with a harrowing, seafaring tale with 'Ring Buoy', too, tightening their further-established sound in a bow.
While nothing on Home, Stockholm quite obviously verges on folk as 'Two Feet in the Sand' did on their previous endeavor, All This Huxley emerges as a band with a more centered sound on their latest. That sound is something that calls back to many of the great indie rock-slash-Americana bands of yesteryear without becoming trite, and is a welcome inclusion to the musical landscape where everyone else is trying to be just a little more complicated.
Words by: Jonathan Frahm (@jfrahm_)