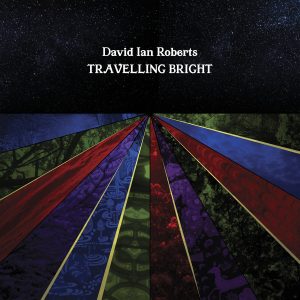 Those who knew David Ian Roberts from his debut album, St. Roberts, may be taken aback by the strong-willed, one could say explosive Travelling Bright.
The instrumental track 'Carillon', for instance, is reminiscent of the sunny jaunts by Balmorhea in 'All Is Wild, All Is Silent', while the acoustic flares of 'A Million Winds' recall the pagan ruckus in 'Fleet Foxes'.
These are the points of reference, in terms of ambition, for this sophomore album by this Cardiff-based artist, and it was some time since such a neat and personal record was released. An instant classic.
Together with his bardic expressiveness, in the Roy Harper vein, David presents now an exuberant musicality, developing on guitar and instrumental flourishes. These seem to fill up the perceived space ('Grail'), with a sensation of brightness that never sickens ('Lulling For A Greener Man'). The record is a rare example of how a few elements can be combined and generate an unsuspected complexity and depth ('John Says'). There is, in Travelling Bright, a wisdom in composition that can guide silences, besides notes.
The bucolic character of the record is a corollary of the spontaneity of songwriting, which is always darting, as if alive ('Sending Out Fires'). There seems to be a lot work in the guitar orchestration, so that this record could be valuable even without voices.
In general, a true hidden gem for the current year – one of those records that, if guiltily ignored by the many, will be for sure be reissued in twenty years, with all the honours. If you are amongst the lucky people who are there to witness its birth, don't let it slip away.
Words: Lorenzo Righetto