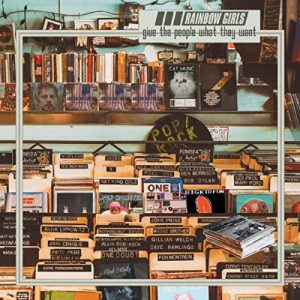 A gang of sweet angels punching you in the heart, Rainbow Girls' sound originated in 2010 as an explosion of energy in California. After two frantic albums in 2013 and 2015 they mellowed out with a chilled originals album American Dream in 2017. After a cover of 'Down Home Girl' went viral and with a global audience asking after a recorded version, they went in to the studio the next day to record this raw album of covers.
The previously mentioned 'Down Home Girl' is the first track on the album. It was first released by Alvin Robinson in 1964 and was famously covered (copied) by The Rolling Stones in 1965, and The Coasters slowed it down in 1967. Rainbow Girls version most recalls Old Crow Medicine Show's acoustic opener on their 2006 album Big Iron World.
I love the Sam Cooke version of 'Smoke Rings', with his signature vocals and a full orchestra. Rainbow girls version is more similar to the original by The Mills Brothers, mimicking their beautiful arrangement with the 'oos'. The girls' cover is tastefully sparse, with a great lo-fi feel that takes us back in time. 'Elvis Presley Blues' is a beautiful serenade originally by Gillian Welch & Dave Rawlings, who are a staple artist for any acoustic country act with prominent harmonies. They don't quite reach the perfectly blended twang and lead guitar perfection of Rawlings, but it's a lovely tribute to the original and it builds nicely.
Next up, a beautiful modern version of the American classic 'Tennessee Waltz'. Originally written in 1946, it was a hit for Pee Wee King (iconic name…) in 1948 and had an old Irish flavour. The most popular version (the one American Grandparents will waltz arm in arm to) was recorded by Patti Page in 1950 (it's sold over ten million copies, Pee Wee King must have been delighted). Since then a myriad of artists have covered the track. Otis Redding does a beautiful ballad version whilst Sam Cooke does an upbeat party version. The Rainbow Girls have recorded a patriotic version with lush harmonies, a modern folk sound and a strong whistle.
Originally written by John Prine, 'Angel From Montgomery' has been covered by Bonnie Raitt. However my favourite version is a version off 'Live From Austin TX' by Susan Tedeschi (she sings with the iconic Derek Trucks in The Tedeschi Trucks band). Rainbow Girls version is upbeat and bluesy and the harmonies add a nice twist with the dominant 7 in the second chord of the chorus progression.
Next is a song originally by the aforementioned Dave Rawlings, Gillian Welch's musical partner. You've gathered I love Dave, but this time I prefer Rainbow Girls' version. This female led version is at a higher tempo which suits the song better, and the harmonies achieve a nice country twang. The golden hair imagery is beautiful. Rainbow Girls also turned 'Daydreaming' on it's head by giving it a gentle woman's touch. It was first released by the angsty voiced Middle Brother. This Rainbow Girls version might be mistaken for being tame in comparison, almost like a Peter, Paul & Mary cover from the early 60s. I think it's very beautiful though and they sing without their guard up, possibly how the original should have been.
'L-O-V-E' is a classic sounding 50s song from the 60s. Originally recorded as an instrumental in 1964, it was released with smooth vocals from Nat King Cole in 1965. It's been extensively covered in the jazz world with some great covers including Gregory Porter's exciting & fast thrill-ride; Diana Krall's sophisticated soft pillow & Michael Buble's gag-inducing big band extravaganza. Rainbow Girl's version is a lovely acoustic guitar ragtime in C. I expect we'll see it on an advert before long.
The penultimate track 'Helplessly Hoping' is ambitious! It's a very difficult song to do justice, they get through a version of the 1969 Crosby, Stills & Nash classic. In parts they hit the harmonies nicely. The track is made by a gorgeous string section and it really is a delight to hear a female version.
The final track is Dylan's political 'A Hard Rain's Gonna Fall', off his 1962 album The Freewheelin' Bob Dylan. The song was originally written in protest to nuclear arms, a topic which is still alarming relevant today. The instrumentation on Rainbow Girl's version gradually builds up, including beautiful harmonies over the hook "it's a hard, it's a hard etc". The track features lots of guest singers and the result is a truly epic ending to a lovable album.
Words: Charlie Law