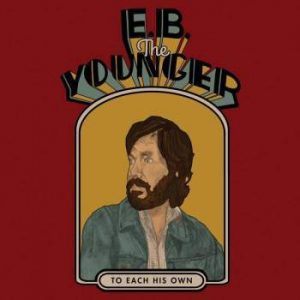 Beginning with a boy and a dream, E.B. The Younger describes himself in a biography with pure honesty and humour. Instantly grabbing your attention, his own originality shines throughout this debut solo outing from Midlake's Eric Pulido. Finding purpose and placing your feet firmly on the ground, To Each His Own really is about enjoying the finer things in life, rather than being in the 'dark'. The sound is different to what we've heard from Eric with Midlake, featuring a prominent mix of 1970's guitar tones, syncopated rhythms, honest lyrics and soothing keyboard parts. Embracing emotions of past and future visions, To Each His Own is honest, personal and hits you right in the soul.
Among the standout moments, 'Used to Be' is carried by vocals that make you feel right at home with warming production and a big arrangement. It's a coming of age track that would be perfect for an independent film about living right in the moment instead of floating towards the past and future 'what if's'. Rooting back to the past, you can definitely hear influence of seventies bands such as Crosby, Stills and Nash hidden in gems like 'When the Time Comes' but there are also touches of the 80s on this rich record. On 'CLP', fluttering instrumentation coats the insecure lyrics with a warm blanket. Finding a nice balance between personal and too personal can be tricky, but Eric has definitely found the sweet spot.
'Down and Out' has to be a standout track on the album for its dream-like atmosphere. Simplicity is surely the key here. Taking us into a forest filled with branches of hidden emotions, 'Out of the Woods' is presented with Eric's heart on his sleeve. The delicate vocals are raw and blessed with layers of note-perfect harmonies. When they are stripped bare to just the isolated track, there's a scary familiarity to the personal tracks of the late great Elliott Smith. Escaping real problems onto a piece of paper is one of the best things for a songwriter. 'Monterey' has a great momentum throughout and creates a warm, sunny Californian fantasy. 'Hope Arrives' can only be described as a angel. Surrounding a beautiful chord progression straight until the end, it feels as though hope has arrived and won't be leaving any time soon.
Taking us down a different avenue of his influences, 'On An Island' will make your foot tap and your head nod instantly. Swaying in time while writing this, the funky number fits comfortably late on the record. It's only 'A Matter of Time' until the album finishes and we're left wanting more. That's when you stick it on repeat and keep going round the cycle. The timeless track holds onto the production with both hands. Sound is always key and it definitely appears that Eric has done his homework to get the sound he wants. The closing title track feels like a gentle wave goodbye, but a hint that this isn't really the end.
Words: Chloe Mogg